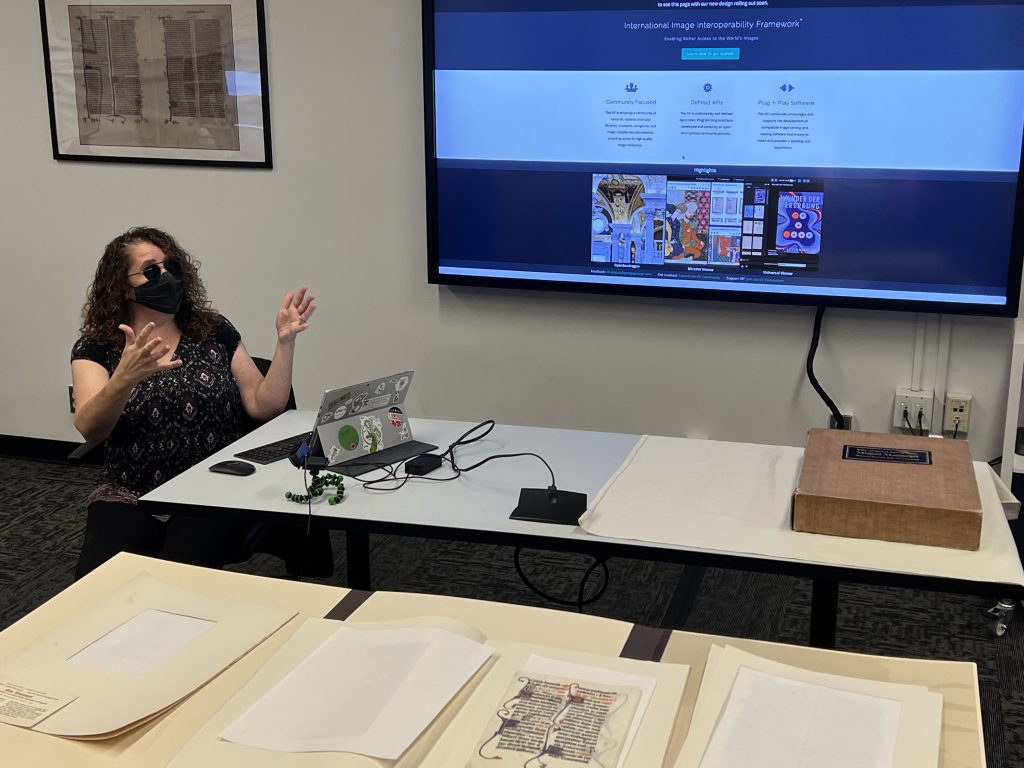 On November 4th, 2021 the Stony Brook University Center for Digital Humanities (CDH) hosted its first guest speaker event since our grand opening with a particularly illustrious subject expert: Dr. Lisa Fagin Davis PhD, Director of the Medieval Academy of America, Simmons University School of Library and Information Science faculty member and world-renowned "fragmentologist" presented her talk entitled "Medieval Manuscripts and Digital Collections: The Case for IIIF."
In 2017, SBU Libraries Digital Projects team published its digital exhibit "Otto F. Ege: Fifty Original Leaves from Medieval Manuscripts" in cooperation with SBU Special Collections and Archives, joining several other large cultural institutions whose collections contain portfolios of fragmented medieval manuscript leaves disseminated in the early twentieth century by self-proclaimed "biblioclast" Otto F. Ege. Soon after that, with Dr. Fagin Davis and other scholars in her field in mind, SBU Libraries' Digital Projects Team implemented IIIF access to the high-resolution digitized images of the leaves (and many of our other digital collections), allowing scholars from across the globe to digitally reconstruct manuscripts which were previously cut apart and scattered to various public and private collections.
Five long years later, CDH was proud to bring Dr. Fagin Davis to our new home for DH on our Long Island campus. Welcoming VIP faculty members from many different SBU departments for a limited in-person event as well as over forty international audience members via Zoom and live stream, the presentation explained how DH scholars can use IIIF in research and online exhibition of digitized cultural heritage items.
In-person attendees were treated to an up close and personal viewing of the original physical manuscript leaves, and those viewing remotely could see the leaves via a handheld document camera wielded by Dr. Fagin Davis. In the course of her talk Dr. Fagin Davis touched on the advantages of the IIIF cross-platform open source technology and showed examples of different online tools used by scholars to collect, study, annotate and share these images such as Fragmentarium, and the Mirador viewer.
Following the presentation, invited guests regrouped for a catered wine and cheese reception at the Simons Center for Geometry and Physics café.
A recorded version of the presentation complete with text subtitles will be available soon on the SBU Libraries official YouTube channel.
You can follow Dr. Lisa Fagin Davis on Twitter at @lisafdavis and The SBU Center for Digital Humanities at @SBUCDH
Photo Gallery

Associate Dean for Library Technology, Discovery, & Digital Services
at
University Libraries
email: shafeek.fazal@stonybrook.edu

Latest posts by Shafeek Fazal (see all)