The summer of 1974 had a lasting impact on Ruth Appelhof. An art history student at the time, she also found herself the house guest of Lee Krasner in Springs, Long Island. Armed with typewriter and tape recorder, Ruth hoped to learn more about Krasner's art and life through a series of interviews.
While she did not get what she expected, Ruth did leave with an abiding interest in Lee Krasner that has culminated in her forthcoming memoir, Lee and Me. On June 18th, Ruth shared some of that journey at Stony Brook Southampton Library's Art in Focus lecture series.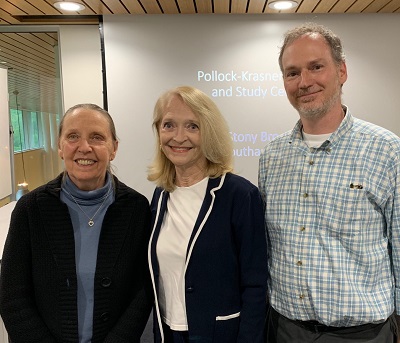 Joined by Helen Harrison of the Pollock-Krasner House and Study Center, Ruth discussed the many sides of Lee, from a powerful painter in her own right to a fierce defender of the legacy of Jackson Pollock. Ruth and Helen were also able to share a look at the new exhibit Lee Krasner: Living Colour which is at the Barbican in London.
The Art in Focus lecture series is a collaboration between Stony Brook University Libraries and the Pollock-Krasner House and Study Center and is made possible by support from the John H. Marburger III Fund of Stony Brook University.

Head of Academic Engagement
at
Stony Brook University Libraries
Chris is the Head of Academic Engagement and the liaison to the MFAs in Creative Writing, Film, and Theatre.
email: chris.kretz@stonybrook.edu

Latest posts by Chris Kretz (see all)