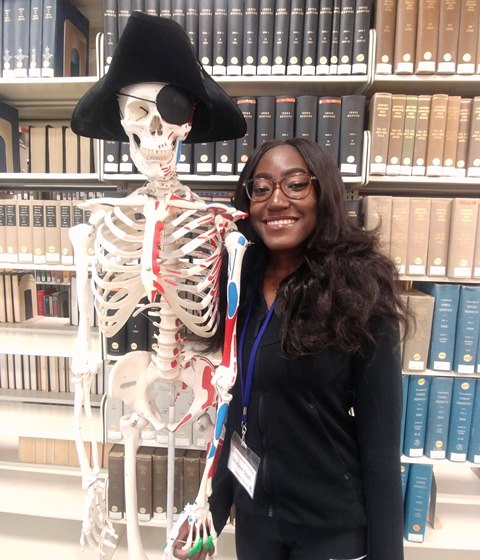 Meet Gabrielle Bismarck. Gabrielle is currently a senior at Stony Brook University and a long time employee of the University Libraries. Born and raised in Brooklyn, Gabrielle came to Stony Brook as a freshman back in 2015 through the Education Opportunity Program (EOP). It was also around this time that she began working for the library.
Four years later we're proud to say Gabrielle is still with us and is considered one of our top student employees. As a senior, Gabrielle will earn a double major B.A. in psychology and sociology and will be graduating this spring. She wants to get her PhD and become a clinical psychologist – helping people with mental illness and destigmatize mental illness within minority communities.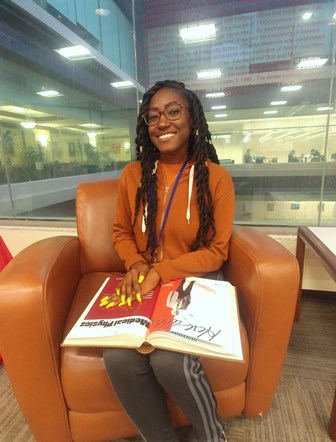 On top of classes and work Gabrielle is a founding member of Stony Brook's official majorette dance team, the Diamond Wolfettes. Gabrielle and her friends sought to bring diversity to the cheer and dance teams of Stony Brook's sports, and the experience of traditional majorette dance mixed with jazz, hip hop and contemporary styles.
It's been a long road and a bittersweet end to a chapter in her life. When asked about her experience, "I have been working at the Health Sciences Library since 2015. In my four years of working here, I have had the privilege of getting to know the staff and have made so many new friends. I've enjoyed being a student at Stony Brook and working at the library, and will miss my friends and co-worker's so much after graduation."
We'll miss you too Gabby!
We wish you the best in life and in all your future accomplishments.
Latest posts by Christopher Larson (see all)