It's easy to get caught inside the bubble of Stony Brook University and forget that there is a whole other world out there! It's important to stay in the know, not only about current events, but also about historical ones, to make the best decisions for the future!
One great resource for this information is The New York Times. Through Stony Brook University Libraries, students can use The New York Times Historical Archive, which allows online access to page images and fulltext articles from The New York Times beginning with the first issue in 1851 through three years ago. These articles can provide great background for papers and projects.
Looking for a more current issue? While The New York Times does not offer an institutional subscription, issues from the last three months are available online through LexisNexis Academia and a digitized version of the original newspaper from 2008 through three months ago can be accessed through The New York Times Digital Microfilm.
Today's print issue of The New York Times can be found at several locations around campus, including in the second floor library core in the North Reading Room of the Melville Library. The New York Times also offers a discount student subscription starting at $1 a week.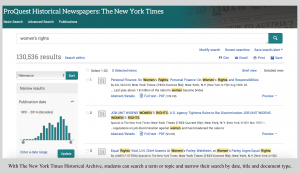 Intern
at
University Libraries
Kaitlyn was previously a library intern in the department of Research & User Engagement.

Latest posts by Kaitlyn Colgan (see all)