When you've put so much hard work into a presentation, you want people to pay attention when you give it. But we all know sitting through boring slide after boring slide doesn't make it easy to stay awake.
Try something new with Prezi! Prezi is a web-based presentation software with dozens of templates to choose from.
Structure your presentation by adding topics and subtopics that reveal themselves only once you click on the topic. This helps make your presentation easy to follow without overwhelming your audience.
Insert a timer, verbal cues or notes to help keep you on track. Only you will be able to see them on presentation mode. Don't forget to share your presentation with a link!
Working on a team project? You can co-edit on the same project from multiple devices at the same time.
Prezi is also available on your mobile device, so start with Prezi Basic for free and upgrade to Premium for more features later!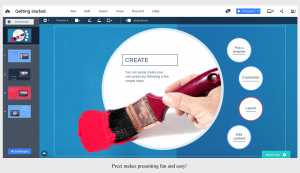 Intern
at
University Libraries
Kaitlyn is a library intern in the department of Research & User Engagement.

Latest posts by Kaitlyn Colgan (see all)