Just keeping track of your busy schedule can be a full-time job! Did you write down your homework in your agenda? Take a picture of when that club meeting was with your phone?
Google calendar is a free app that can help keep your life organized across your computer, tablet and smartphone.
There are options to save the title, time, date and location of your event, and even put this occurrence on repeat. Additional descriptions and attachments can be added as well.
Google calendar also syncs the birthdays of your contacts, in addition to national holidays. There's options to color code all the aspects of your life.
Need a reminder? Set an alert minutes, hours, days or even weeks before your occasion.
You can also send invitations for meetings to your contacts, to which they can reply yes, maybe or no. This saves the trouble of sending messages back and forth. If both parties save yes replies, the meeting is saved right to both calendars.
So go ahead and get started! All you need is a free gmail account.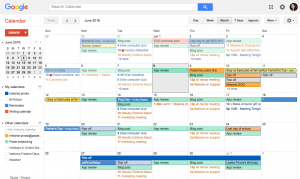 Intern
at
University Libraries
Kaitlyn was previously a library intern in the department of Research & User Engagement.

Latest posts by Kaitlyn Colgan (see all)