Safe Space is an  LGBTQ* Services program of that seeks to ensure that SBU becomes a more inclusive place for Lesbian, Gay, Bisexual, Transgender, Queer and Questioning* (LGBTQ*) people by fostering a supportive learning and working environment.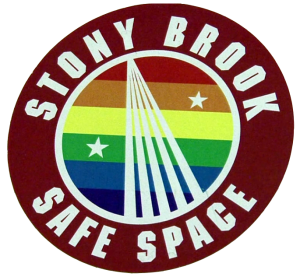 The goals of Safe Space are:
•To change campus culture, and wherever else we inhabit, so that LGBTQ* people feel safe, supported, valued, and celebrated.

•To provide information about resources and appropriate referrals for members of the campus community seeking additional support and information.

•To educate and empower individuals to do the constant work of being allies for social justice.

•To build tools and skill that facilitate the disruption of oppressive behavior, and mentality.

Across campus there are Safe Space members available to support and confidentially consult with the lesbian, gay, bisexual, transgender, queer and questioning (LGBTQ*) community and their allies.  In Melville Library Darren Chase is a Safe Space member — his office is NS2-A in the North Reading Room.
Resources
University Libraries Queer Studies Research Guide

Latest posts by Darren Chase (see all)