The SBU University Senate adopted an Open Access Policy on February 6, 2017.  Open access means unrestricted online access to scholarly articles. The policy demonstrates SBU's commitment to sharing the fruits of research and scholarship as widely as possible, and complying with public access mandates of grant-funded research. Participation in open access increases readership and citation rates.
Visit library.stonybrook.edu/openaccess to see the SBU Open Access Policy, deposit your work, request a waiver, and more!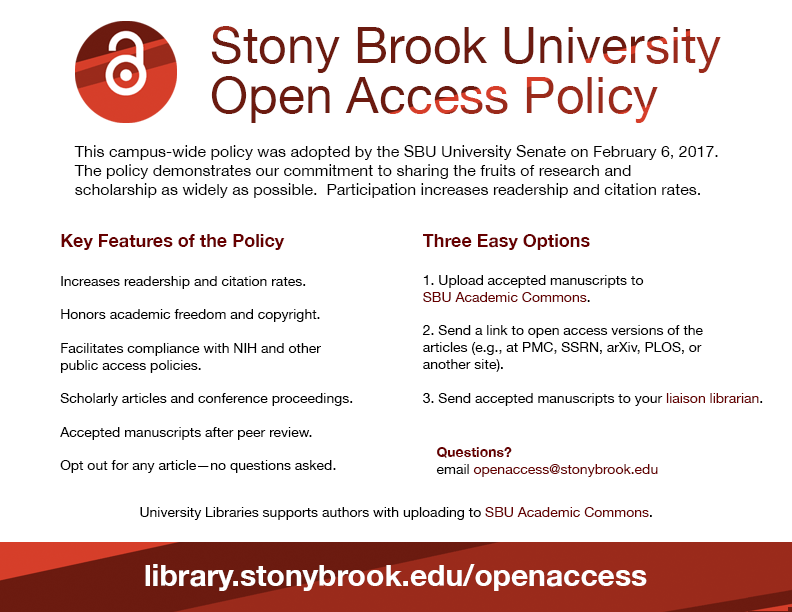 Key Features of the Policy
Increases readership and citation rates.
Honors academic freedom and copyright.
Facilitates compliance with NIH and other public access policies.
For scholarly articles and conference proceedings.
Accepted manuscripts after peer review.
Opt out for any article—no questions asked.
Three Easy Options
1. Upload accepted manuscripts to SBU Academic Commons.
2. Send a link to open access versions of the articles (e.g., at PMC, SSRN, arXiv, PLOS, or another site).
3. Send accepted manuscripts to your liaison librarian.
Learn More
Open Access @ SBU Read the SBU Open Access Policy, deposit your work, request a waiver/embargo and more!  Download the SBU OA Policy Flyer (PDF).
Center for Scholarly Communication Information, services and resources for open access, scholarly publishing, research data, open education and more.
Discover SBU Open Access: Highly Cited and on the Rise
Questions?
email openaccess@stonybrook.edu or Darren Chase, Head nf the Center for Scholarly Communication, University Libraries.

Latest posts by Darren Chase (see all)