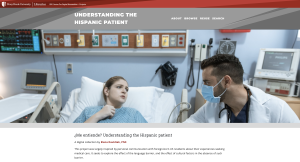 The Stony Brook University Center for Digital Humanities is proud to announce the publication of a collaborative digital exhibit project in cooperation with Professor Elena Davidiak, PhD of the SBU Hispanic Languages and Literature department.
Understanding the Hispanic Patient is a research project funded by a Faculty of Arts, Humanities and Social Sciences (FAHSS) grant at Stony Brook University. Professor Davidiak interviewed fifteen foreign-born Spanish speaking US residents about their experiences in the American healthcare system to explore whether a language barrier or other cultural differences affected their healthcare outcomes. Each interview was recorded as a video call and then text transcripts were created in both Spanish and English.
As her project progressed, Professor Davidiak reached out to the Center for Digital Humanities to assist her with developing a digital collection website to publish her research. Because the collection is a smaller-scale project which did not require long-term permanent preservation, it was an ideal candidate for a lightweight static digital exhibit created with the minimal computing workflow Wax. Wax is an open-source Jekyll-based workflow for presenting exhibits of scholarly or cultural heritage items on the web. It requires very little in terms of ongoing web server support and maintenance, complex databases, security patches, upgrade plans or expensive hosting. Professor Davidiak's site is hosted for free on GitHub and YouTube, however the collection website is static and portable and can be published easily on any variety of web hosting platforms.
Professor Davidiak consulted with Digital Projects Librarian, Victoria Pilato, who advised her on best practices when gathering collection materials and metadata about each interview. A simple spreadsheet template was provided where Professor Davidiak was able to capture the metadata which served as the basis for the static exhibit website. Chris Sauerwald (Digital Humanities working group chair) took the finished spreadsheet, video files, and text transcript files, generated the site using the Wax workflow and uploaded it to GitHub Pages for public access. He also customized the theme of the Wax exhibit to display the embedded YouTube videos and to reflect SBU Libraries visual style. Future enhancements may include IIIF support for the video and PDF files.
The site is available to view on GitHub at https://sbucdh.github.io/davidiak and is linked from the SBU Center for Digital Humanities project showcase.

Associate Dean for Library Technology, Discovery, & Digital Services
at
University Libraries
email: shafeek.fazal@stonybrook.edu

Latest posts by Shafeek Fazal (see all)