If you've been around Stony Brook University's campus, you've probably seen them: SINC sites, or Students in Need of Computers. SINC Sites are public computer labs run by the Division of Information Technology.
SINC Sites have both Windows and Mac computers for students to use at 17 locations around campus. 15 of the 17 sites are home to at least one Pharos release station which is where students can use Print From Anywhere.
All registered Stony Brook students begin the semester with a 2100 page printing quota. By downloading the Print From Anywhere software to a personal computer or printing from a SINC site computer, students are able to use this quota to print at no additional cost at the Pharos release stations.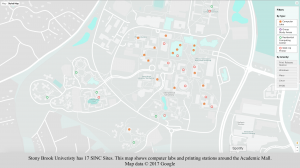 Intern
at
University Libraries
Kaitlyn is a library intern in the department of Research & User Engagement.

Latest posts by Kaitlyn Colgan (see all)