With everyone's busy schedules, it can be hard to find time to meet for a group project or meeting. Instead of sendings dozens of confusing texts and emails, use Doodle, an online scheduling tool!
To create a Doodle, one administrator enters a list of possible dates and times for the event. Doodle creates a poll with a shareable link that can be sent to any email address. From there, participants can enter their name and choose the option or options that work for them. Doodle synthesizes the information to reveal the time that works for everyone!
In settings, the administrator can limit participants to a single vote, allow participants to indicate if an option is not ideal for them, and limit participants to answer on a first come, first serve basis. There is also a hidden poll option that keeps participants' names confidential.
Doodle can be automatically synced to your Google Calendar and one on one appointments can be scheduled with Doodle Meet Me.
Save yourself the time and the hassle by planning your next meeting with Doodle!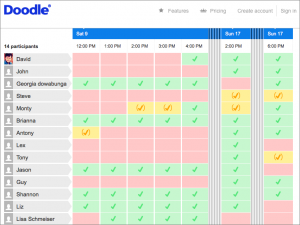 Intern
at
University Libraries
Kaitlyn is a library intern in the department of Research & User Engagement.

Latest posts by Kaitlyn Colgan (see all)