TED (Technology, Entertainment, Design) is a nonprofit that organizes and hosts speakers on dozens on topics ranging from technology to entertainment to global issues in over 100 languages. All of these talks are available online for free. TED hosts a major annual conference in Vancouver, Canada, annually, as well as regular events in North America, Europe and Asia, which are live-streamed on their website.
There is plenty that can be learned from any TED talk, but the TED-Ed project offers videos and lesson plans more specifically tailored toward the classroom. TED-Ed offers learning supplement videos like "How many ways are there to prove the Pythagorean theorem?" in addition to meta talks concerning the act of educating like "Should we get rid of standardized testing?"
The TEDx Program "supports independent organizers who want to create a TED-like event in their own community," according to its website. Stony Brook University has organized its own TEDx SBU event annually since 2013, which has featured faculty and staff members and students and alumni.
So the next time you're scrolling through YouTube videos, avoiding your work, check out a TED talk and procrastinate productively!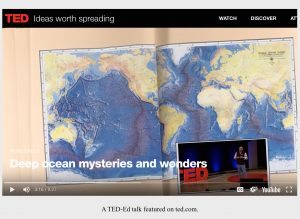 Intern
at
University Libraries
Kaitlyn was previously a library intern in the department of Research & User Engagement.

Latest posts by Kaitlyn Colgan (see all)