In honor of his 88th birthday, the SBU Southampton Library is celebrating all things related to the remarkable career of Jules Feiffer. Our Book Lounge features a display of his works in our collection, ranging from cartoons and graphic novels to plays and screenplays. We are also featuring a special Feiffer drawing on loan from the Stony Brook Southampton MFA program where he has been a teacher for many  years.
Born in the Bronx in 1929, Feiffer developed an early love of adventure comic strips and longed to follow in the footsteps of Milton Caniff (Terry and the Pirates) and Roy Crane (Capt. Easy). In the late 1940s he worked for Will Eisner, writing scripts for The Spirit comic section that appeared in newspapers across the country. It was his stint in the army, however, that he credits with changing his career path. As he puts it in his 2010 autobiography Backing Into Forward, "The army made a satirist out of me."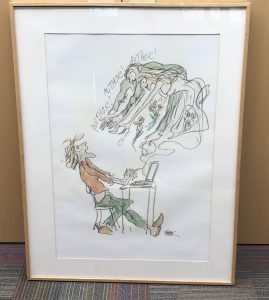 What followed was a long career for the Village Voice which brought him to national prominence. Along the way he published cartoons in Playboy, wrote for the stage, and got involved in movies. He penned the screenplays for Carnal Knowledge (1971) and Popeye (1980) among others. In more recent years, Feiffer turned to children's books and graphic novels. Cousin Joseph, published last summer, marks the second installment of his graphic novel noir trilogy set in Depression-era America.
Come down to the Book Lounge and spend some time getting acquainted with this impressive body of work. If you consider his career, as he does in Backing into Forward, "a series of mood swings" then you should be able to find a book for whatever mood you're in.
View Jules Feiffer books in our collection.

Head of Academic Engagement
at
Stony Brook University Libraries
Chris is the Head of Academic Engagement and the liaison to the MFAs in Creative Writing, Film, and Theatre.
email: chris.kretz@stonybrook.edu

Latest posts by Chris Kretz (see all)