Shakespeare is a free mobile app that allows users to read plays, sonnets, and poems by William Shakespeare. Students who are studying English and Shakespeare may find this app to be useful when reading Shakespeare's works. The app contains the full texts of Shakespeare's complete works, which includes 41 plays, 154 sonnets, and 6 poems. It has features that are designed to enhance your reading and understanding of Shakespeare. The app includes detailed scene breakdowns for Shakespeare's plays, providing overviews of the scenes, characters, and locations for each play. The app also allows you to customize the look of the text by letting you change the font, size, and color of the text, so you can read the text more comfortably. Additionally, the Shakespeare app contains features that encourage users to experience Shakespeare through theater. BardFind is a feature that lets you search for Shakespeare theaters and festivals worldwide. The Shakespeare Passport is a virtual discount coupon that gives you discounts to Shakespeare events and performances at 57 participating Shakespeare Passport venues.
The Shakespeare app also has a paid premium version called Shakespeare Pro that includes additional features, such as a bookmarking function, a note-taking function, an integrated Shakespeare's Words glossary, Shakespeare facts, a random Shakespeare quote and insult generator, and a Shakespeare portrait gallery.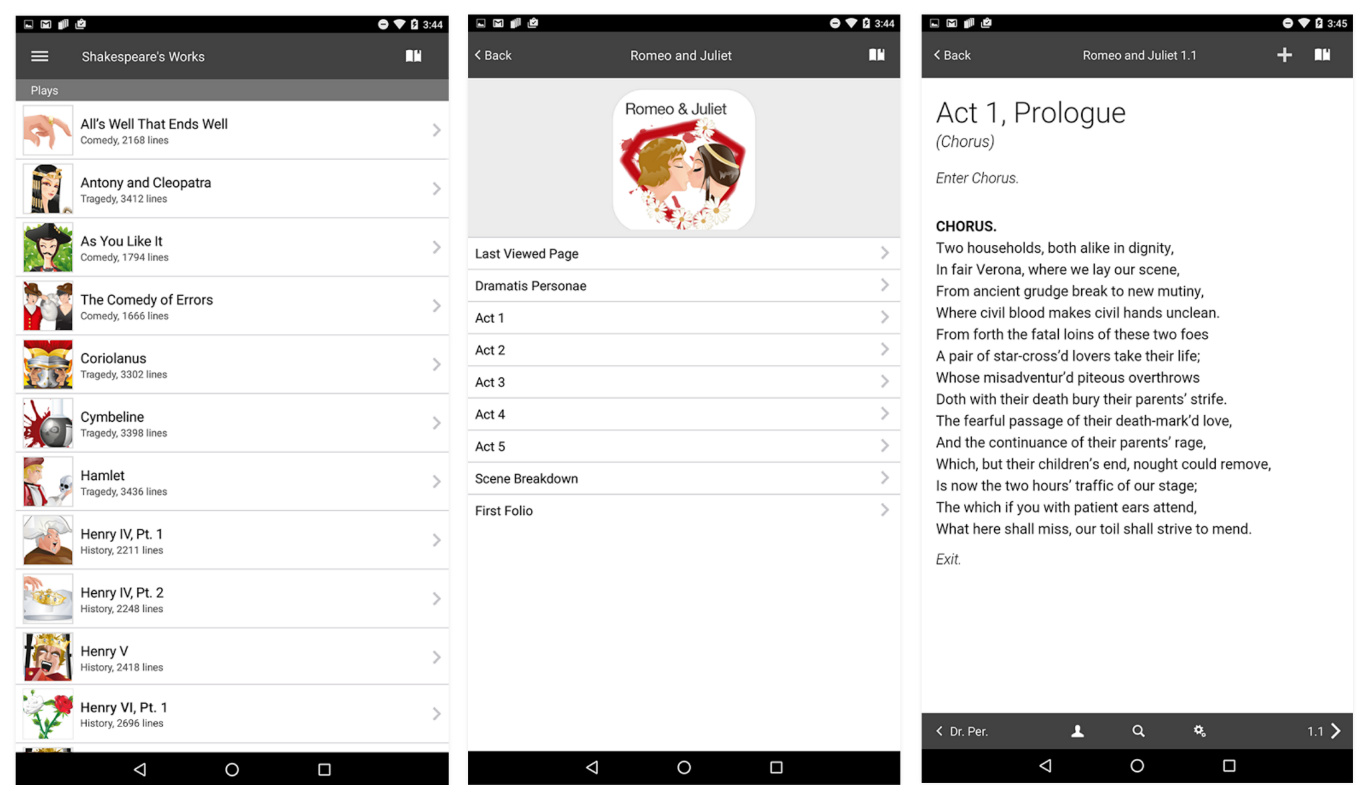 The Shakespeare app and Shakespeare Pro app are excellent resources for students studying Shakespeare and Shakespeare enthusiasts. The free Shakespeare app is available on the Apple App Store for Apple mobile devices. The paid Shakespeare Pro app is available on the Apple App Store for Apple mobile devices and the Mac App Store for Mac laptops. Shakespeare Pro is currently available for free with optional paid features on the Google Play Store for Android mobile devices. The makers of the app also have their own website that provides access to Shakespeare's works and related Shakespeare resources: https://www.playshakespeare.com/.

Latest posts by Laura Costello (see all)