SBU's Southampton Physical Therapy Class of 2019 recently hosted the Third Annual Southampton Campus Kinesiology Fair. Kinesiology, the study of the mechanics of body movement, is an important element to physical therapy. The annual fair provides a creative canvas for PT students to share their work in a creative way. They develop models, poster boards, and more to demonstrate of a chosen action. The finals projects were brought together and students voted on the most creative and most informative entries.
For example, graduate students Kelly Martin, Matt Mahoney, Ayne Kelly, and Payne Corazzoni developed their project around the swing of a golf club. They used ball-joints to connect a skeletal structure out of wood in order to demonstrate the hip rotation during the golf swing.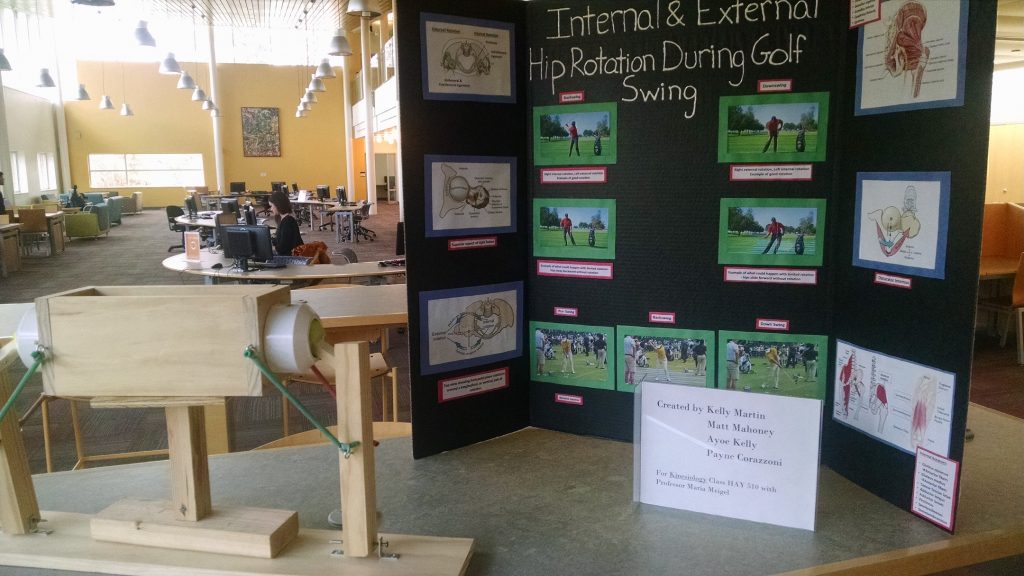 PT grad students Margarita Pileskaya, Viera Vargas, Jillian Casella used a "wine country" theme when creating their "Finger Flexor Pulley System and Extensor Mechanism" including wine corks as bones in the fingers. Their project flexes the fingers as if making a fist and extends the fingers into an open hand.
In their description they also detail the different joints present in a hand:
"MCP Joints are your knuckles separating fingers and pam, PIP joints are the next row up about the mid-finger, and DIP joints are the knuckles just below the tips of your fingers."
These two projects, supervised by Professor Maria Meigel, are being featured on the high-top tables near the Southampton Library's main desk. Come treat yourself to an up close view of how our joints work!

email: william.blydenburgh@stonybrook.edu

Latest posts by William Blydenburgh (see all)