Did you know that today holds a special place in the heart of Back to the Future aficionados?  In Back to the Future II (1989), Marty McFly and Doc Brown travel all the way into the future…to October 21, 2015!  Today, fans around the country are celebrating 1.21 gigawatts of fun attending re-release screenings andcatching Lyft rides in DeLoreans.
You, too, can join in the celebration by hosting a screening or just learning a bit more about the films that put hoverboarding on the map!
Check out our Back to the Future book and film collection here.
Check out research about all things BTTF here.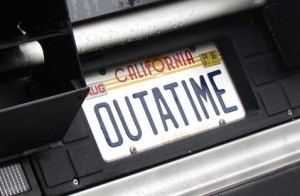 (image obtained from Jeremy Thompson via cc)

Associate Dean, Research & User Engagement
at
Stony Brook University Libraries
email: janet.clarke@stonybrook.edu

Latest posts by Janet Clarke (see all)