MUS 520 ("Bibliography and Research Skills") is a five-week course offered every fall for new students in the Music Department's Doctoral of Musical Arts program in performance.   This year there are over 20 students in the course.  As Head of the Music Library, I introduce these talented instrumentalists and singers to the many resources available in the Music Library, the Melville Library, and beyond.  The final project is an annotated bibliography on a musical work or topic of their choice, one that may they may also wish to pursue as a final paper project or lecture-recital for their DMA degree.  It is a pleasure to teach them!
–G. Schierhorst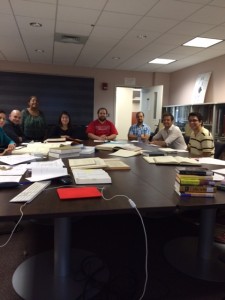 Associate Librarian; Director, Special Collections and University Archives; and University Archivist
at
Stony Brook University Libraries
Contact her for research assistance with rare books, manuscript collections, historical maps, and SBU history. E-mail: kristen.nyitray@stonybrook.edu.

Latest posts by Kristen Nyitray (see all)