You are cordially invited to the opening of PRINTING SOLIDARITY: Tricontinental Graphics from Cuba, at Stony Brook University's Zuccaire Gallery, with guest lecturer Scott Starrett, Founder and Director of Tandem Design NYC. Light refreshments will be served. See details below and by visiting the Zuccaire Gallery's website. This exhibition features a copy of Tricontinental magazine from the Stony Brook University Libraries collection!
PRINTING SOLIDARITY: Tricontinental Graphics from Cuba
On view December 1, 2021 – February 26, 2022, Zuccaire Gallery
Opening Events – December 1, 2021
3:00pm: Guest Lecture "Revolutionary Aesthetics"
4:30pm: PRINTING SOLIDARITY Curator Panel
* Refreshments will be served
REVOLUTIONARY AESTHETICS: Alexandria Ocasio-Cortez's Political Design
Lecture: Wednesday, December 1 at 3:00 pm, Zuccaire Gallery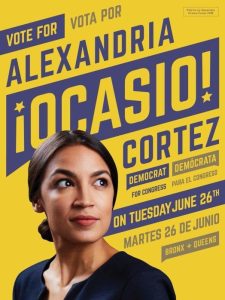 This talk presented by Scott Starrett, Founder and Director of Tandem Design NYC, will focus on the notion of "revolutionary aesthetics," by articulating the value of homage, representation, reference, and intention imbued in Tandem's work, including Alexandria Ocasio-Cortez's 2018 Congressional brand strategy.
Scott founded Tandem in 2015 on the principle that the same persuasive techniques used to sell products & services, can and should be used to promote the common good. Tandem's most recognizable work sits at the intersection of advocacy and movement-based politics. Whether he's providing strategy, writing copy, developing brands, designing experiences, or illustrating posters, Scott has been fortunate to work alongside such distinguished leaders and organizations as Black Lives Matter, Bernie Sanders, Sunrise Movement, Planned Parenthood, and Alexandria Ocasio-Cortez on the front lines of progressivism. Scott's work has been acquired by the Library of Congress, The Poster House, and The Henry Ford Museums.
---
PRINTING SOLIDARITY: Tricontinental Graphics from Cuba is an exhibition of global printed matter published in the 1960s-80s by the Organization of Solidarity with the Peoples of Africa, Asia, and Latin America (OSPAAAL), a cultural organization of artists and designers founded in 1966 in Havana. Presenting over 100 archival posters and magazines with strikingly colorful and geometric designs, Printing Solidarity offers a glimpse into the revolutionary aesthetics and agenda of this print collective. Bold illustrations by Cuban artists of anti-imperialist struggles in Angola, Zimbabwe, Vietnam, and Korea among other places represent a visual network of solidarity.
PRINTING SOLIDARITY is organized by Stony Brook University Art History graduate students Elise Armani, Amy Kahng, Daniel Menzo, and Sarah Myers under the guidance of Assistant Professor Sohl Lee and in partnership with the Paul W. Zuccaire Gallery. The exhibited posters and magazines are on loan from the Interference Archive in Brooklyn, the main collaborator for this exhibition. The exhibition and programs are supported by the Humanities Institute at Stony Brook (HISB), Latin American and Caribbean Studies (LACS), the Center for Korean Studies (CKS), the Graduate Student Organization (GSO), and the Department of Art.

Associate Dean for Library Technology, Discovery, & Digital Services
at
University Libraries
email: shafeek.fazal@stonybrook.edu

Latest posts by Shafeek Fazal (see all)