Last night marked the opening of the fall 2020 Art in Focus lecture series. Via Zoom, attendees from as far away as Texas and California tuned in to listen to Helen Harrison, the Eugene V. and Clare E. Thaw Director of the Pollock-Krasner House and Study Center, speak on "Jackson Pollock and Jazz." Though we miss seeing everyone at the Southampton campus library, we are delighted to be able to offer this series via Zoom!
The Art in Focus series is co-presented by the Stony Brook University Libraries and the Pollock-Krasner House and Study Center. We would like to extend our thanks to the Herman Goldman Foundation and Stony Brook's John H. Marburger III Fund for supporting the series.
Please mark your calendars and register for the next two lectures in the series. On October 13th, artist Christian White will be speaking on "Reconciling Realism with Modernism." On October 27th, author Nancy Moses will discuss "Fakes, Forgeries, and Frauds."
Updated 10/17/20: Please see also the article about this lecture and the Art in Focus series in The Statesman!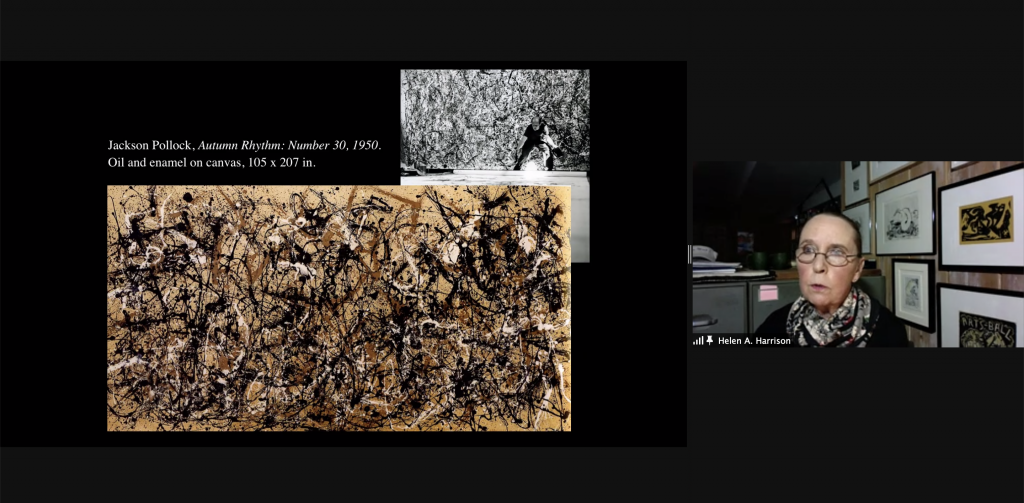 Web Services and Data Librarian
at
Stony Brook University Libraries
Claire is the Web Services and Data Librarian and the liaison to the Department of Art.

Latest posts by Claire Payne (see all)