My Research Life is a blog series of interviews with Stony Brook people about how and where they do their research. Today librarian Jennifer DeVito talks with Melanie Paul Austin, a marketing MBA student at Stony Brook University. Melanie's research interests are rooted in consumer behavior and decision making. After graduation she hopes to continue doing research and one day becoming a marketing professor.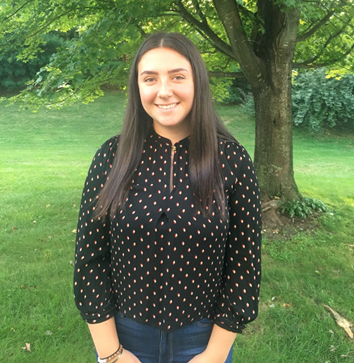 1. Before you came to SBU, tell us about your earliest library experiences.
As a kid my mom often took me to the local library or bookstores. As a teen I spent a lot of time at my local library and still go there to take out books every so often. Now, I utilize the library as a study space.
2. At SBU, what was your first impression of the libraries?
My first impression of the SBU Libraries was that the building was so big! I thought it was really great that there were many different areas with different zones. This past summer I actually worked at the Health Sciences Library. I didn't know much about it, but came to find that it was a great quiet space.
3.Do you have a favorite place to study in one of our libraries?
My favorite space at the library is the Central Reading Room. It was my first study space at SBU and the seats are comfy. It's also a great space to meet for group projects because of the rooms with white boards.
4.In doing research at SBU, can you describe "aha" moments that helped crystallize your thoughts?
I didn't realize the extent of resources available to me as a student until a librarian had visited one of my undergraduate business classes. Once I was aware of just how much information (that other people pay a lot of money to access) was at my disposal I knew the SBU Libraries was going to be a great resource for me. Our access to journals and databases have helped me in my coursework and research.
5.What are your tips for doing successful research?
My best tip for successful research is to question everything. To not just take the first article or book you find as being the best source. Sometimes finding the best source takes time, but try to gather as much information as possible and verify your sources. The right one will come along.
6.Tell us about your personal library. What do you read to relax?
In my free time I enjoy reading as a way to relax. I like to read ancient literature from authors like Cicero and Marcus Aurelius. Currently I am reading Know My Name, by Chanel Miller. It's a really powerful book that I highly recommend.

Associate Librarian, Director of Access & User Services
at
Stony Brook University Libraries
Liaison to the College of Business & Women's, Gender, & Sexuality Studies
Email: jennifer.a.devito@stonybrook.edu

Latest posts by Jennifer DeVito (see all)