With just a year left to get her B.A., Rachel Parker transferred to Stony Brook University in the Fall of 2018 to finish her undergraduate program in English. Wasting no time Rachel joined the SBU Libraries last October and is now finishing her last semester with us. In the brief time she's worked here Rachel has proven to be a bright and resourceful employee. Whether she's helping a patron search for an article or digitizing one, Rachel approaches her work with enthusiasm – always giving 100 percent.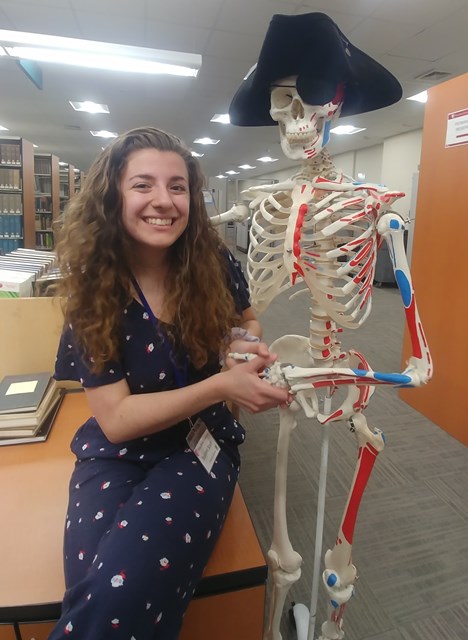 After graduation Rachel plans on pursuing a career in publishing and is currently seeking an internship with a major book publisher! But Rachel is no stranger to writing and journalism. In addition to being an English major and professional book worm, she has written articles for the Statesman, as well as Stony Brook's English Department website. She's also contributed content for the SBU libraries blog and social media channels.
You can view some of her writing here –
Jazz Loft Brings Jazz Culture to Long Island
We recently sat down with Ms. Parker and asked her a few questions about her college experience and any advice she can offer freshmen students:
Q – Was it difficult coming to Stony Brook as a transfer student?
A – It was intimidating but once the semester started I immediately knew I made the right choice
Q – Where is your favorite place to study on campus?
A – Having worked at the Health Sciences Library I really like the atmosphere of the quiet zone for those long hours of study but I'm primarily at West campus, so I usually go to the North Reading Room and grab one of those little desk cubicles to work in.
Q – As an avid reader can you recommend a few good books?
A – SO MANY!!! "Circe" by Madeline Miller, "My Year of Meats" by Ruth Ozeki, and "The Namesake" by Jhumpa Lahiri are the first 3 to pop into my head
Q – What advice would you give to incoming students?
A – I came to Stony Brook as a transfer student, so my biggest piece of advice is that if you need to get any transfer courses evaluated or any paperwork signed: stay on top of it! And put in the effort to stop by your advisor's office a couple of times a semester. Also, if you're a commuter like me, try to get involved in something that brings you to campus outside of academics!
Latest posts by Christopher Larson (see all)