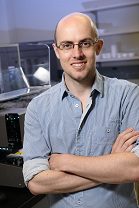 Interested in biological science? Spend an hour with our STEM speaker, Dr. Steven Glynn from the Department of Biochemistry and Cell Biology, to learn about "How ATP-fueled Biological Motors Drive the Processes of Life."

Date: Tuesday, February 19, 2019
Time: 1-2 PM
Location: Special Collections Seminar Room, E2340, second floor of the Melville Library

Life requires the creation of force. From muscle contraction to the unwinding of DNA helices, many cellular processes are powered by protein motors, which transform chemical energy in theform of ATP into motion for productive work. Dr Glynn will discuss how a family of specialized ATP-fueled motors provide the force needed to drive key events in the life of the cell, and how recent advances in bioimaging are revealing the intricate mechanisms of these biological nanomachines.

Please register here and join us for this special event.

Clara is the member of the Library STEM Team.
Email: clara.tran@stonybrook.edu

Latest posts by Clara Tran (see all)