On November 13th, the University Libraries hosted the third Digital Humanities Open Mic in Melville Library's Center for Scholarly Communication.  Presenters Darren Chase and Josh Teplitsky discussed important projects which inspired a conversation about the ways in which the digital humanities engage with concepts of work, collaboration, authorship, scholarship, and professional development.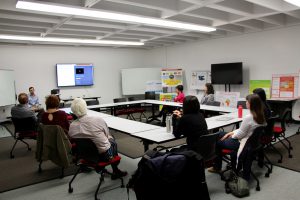 Darren Chase (Head of Scholarly Communication, University Libraries) demonstrated the cleverness of a project being done at Carnegie Mellon University, entitled "Six Degrees of Francis Bacon."  This project addresses notions of connectivity and relationship in early modern Britain using entries in the Oxford Dictionary of National Biography: http://www.sixdegreesoffrancisbacon.com/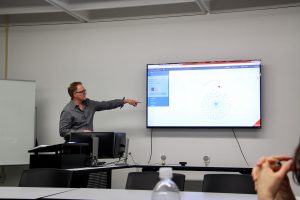 Josh Teplitsky (Assistant Professor, Department of History) is one of the directors of "Footprints: Jewish Books through Time and Place," a project which engages with intellectual and social history by tracing the usage and circulation of Jewish books in early modern Europe: https://footprints.ccnmtl.columbia.edu/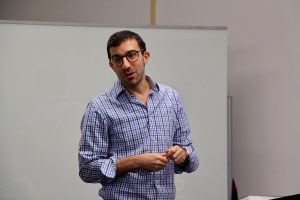 Looking forward to another Digital Humanities Open Mic next semester!  In the meantime, check out the University Libraries' research guide for the digital humanities.

Head of Humanities & Social Sciences
at
Stony Brook University Libraries
Kate is Head of Humanities and Social Sciences at Stony Brook University Libraries. She is the liaison to the French & Francophone Studies program and the Russian Studies program.
email: kathleen.kasten@stonybrook.edu

Latest posts by Kate Kasten-Mutkus (see all)