On September 21st, four SBU librarians presented their research and professional development activities.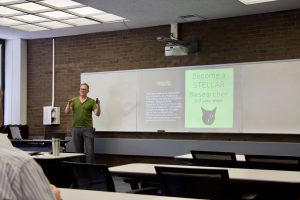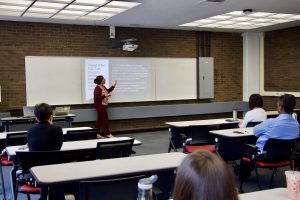 Violeta Ilik, Head of Cataloging & Metadata Services, discussed the importance of identity and entity management in cataloging in order to help researchers take control of their professional identity, while also making scholarly work easier to find.
Darren Chase, Head of Scholarly Communication, presented his work on digital badges and credentialing.  His project provides a way for undergraduate students to master important skills in information literacy and research in a way that demonstrates the value of this work to others, including potential employers.
Jennifer DeVito, Director of Access & User Services, shared insights from a conference she attended regarding strategies for managing and adapting to change in the workplace.
Kate Kasten, Head of Humanities & Social Sciences, spoke about an article she is writing about the ways in which speaker events help to situate the academic library as a locus for interdisciplinary discussion on campus and to enrich it as a partner in the research process.
Please join us for the next event in our colloquium series, devoted to all things open access.  Held during Open Access Week, this event will take place at 1:00 on October 26th in the Center for Scholarly Communication on the second floor of the North Reading Room in Melville Library.  Please find more information, including a registration link, here.

Head of Humanities & Social Sciences
at
Stony Brook University Libraries
Kate is Head of Humanities and Social Sciences at Stony Brook University Libraries. She is the liaison to the French & Francophone Studies program and the Russian Studies program.
email: kathleen.kasten@stonybrook.edu

Latest posts by Kate Kasten-Mutkus (see all)