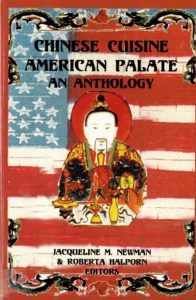 Did you know that Stony Brook University on Long Island has a gigantic collection of Chinese cookbooks? What about the papers of the first published female Chinese American novelist?
This week, the Asian Pacific American Librarians Association (APALA) featured an interview with Kristen Nyitray, Head of Special Collections and University Archives and University Archivist. The interview features two of the collections at Stony Brook Special Collections and University Archives– the Chang and Newman collections– on their website and is part of their APA Collections series, which highlights significant Asian Pacific American library and archives collections around the United States. From the feature:
Both the Chang and Newman collections advance the research and scholarly missions of the university. They support a wide range of curricular needs for several departments, including but not limited to, English, Asian and Asian American Studies, Cultural Analysis and Theory, and Women's Studies. Additionally, faculty members from the Department of Pharmacology have consulted the Newman Collection for research materials on herbs and medicinal plants. A representative from P.F Chang's restaurant accessed many books to select recipes from the Szechuan section of their menu.
Check out the feature or go straight to Special Collections to learn more!
Latest posts by melhiggins (see all)