For over 40 years (41 to be exact), aspiring and prestigious writers have flocked to Southampton to take part in what is now one of the most well-known writers conferences in the world. While over those years the landscape has shifted significantly out at Southampton, the Southampton Writers Conference has remained a must-attend event for authors of fiction, poetry and nonfiction. This year's conference is scheduled to take place from July 6, 2016 to July 17, 2016 and the SBU Southampton Library is proud to be the first building that conference attendees will visit during their stay.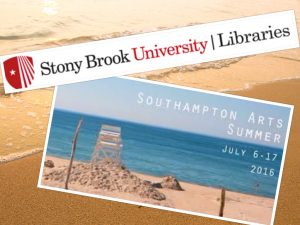 This year marks the first year that Stony Brook University Libraries will officially be partnering with distinguished faculty from the MFA Department to promote the Southampton Writers Conference. The Library will not only serve as the main check-in point for all conference attendees, but has also extended hours so that conference goers and MFA Faculty can utilize the library at their leisure. In addition to these services, the Library is currently curating a conference-specific collection of works that represent the established authors teaching and mentoring at the conference. These books will be on display throughout the conference. By the time the conference rolls around, the library will be decorated with fully-developed author stations complete with photos, bios, quotes and works from each member of the conference faculty. The SBU Southampton Library has also devoted a large portion of their Creative Writing LibGuide to promote the Conference, including a countdown clock and an Authors Page.
As the conference continues to grow, SBU Libraries will explore new avenues in helping the MFA Department host the increasing number of participants and renowned Faculty that make the trek out to the Hamptons each summer. This year's conference not only features classes from acclaimed Stony Brook University Faculty members such as Roger Rosenblatt, Melissa Bank and Billy Collins (to name a few), but also features lectures and seminars from award-winning authors such as Lauren Groff, whose Fates and Furies, was nominated for a National Book Award and Gayle Forman, whose If I Stay, hit #1 on USA Today and New York Times Bestseller Lists and was turned into a 2014 hit film. The Conference has also grown to include Theater workshops and this year will feature a Master Class in Acting instructed by Bethany Caputo, a Michael Chekhov International Association master teacher and Long Island born actor, Alec Baldwin, who you also may have heard of.
Learn more about all the great programs that our MFA Faculty are involved in! Check out the Southampton Arts webpage and connect with one of the best MFA Departments in the world.