In a previous post, we presented Altmetric as an innovative method of displaying research impact on the social media by tracing mentions on Facebook, twitter, blogs and downloads. Now, Altmetric is used to measure the impact of more than 8000 academic journals and Altmetric has been recently expanding their scholarly horizon.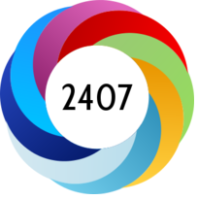 In May, Altmetric will add an new tool to its wide array of metrics products. This tool will enable authors, editors and readers to have an insight about the impact of books–as a whole or as individual chapters–on social media from the moment of publication to the instant moment users open the Altmetric link. To illustrate, authors will be capable of having a clear idea about how readers react to their writing and of opinions raised about their books. Editors and publishers, on the other hand, can use this tool to determine which authors are creating the deepest impact, which disciplines and topics receive the most attention from readers, and which books  instigate the widest engagement. Also, readers would find this tool helpful in choosing which book to read and assessing its significance and impact on the scholarly community.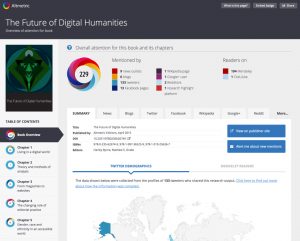 The Altmetric tool will display data through the "donut badge" which links to the book details page. On this page, you can find an overview about the impact of the book as a whole, or a certain chapter, access the publisher's website link of the book. Users can also sign up for a service that sends alerts whenever the book receives mentions in social media and can have a view about where in the world the book has been mentioned or downloaded.
For more information about the new Altmetric tool for books:
https://www.altmetric.com/products/books/
https://www.altmetric.com/press/press-releases/altmetric-for-books/
Omnia Abdallah is the 2016 Center for Scholarly Communication intern, and an SBU MBA student.Her professional experience includes work at the peer-reviewed open access press, Hindawi Publishing.
Latest posts by Omnia Abdallah (see all)