Date: 06/18/2019

Time: 7:00 pm - 8:00 pm

Location
Southampton Library Classroom 201
Description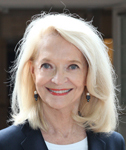 Ruth Appelhof
Executive Director Emerita, Guild Hall of East Hampton

Angry, outrageous, defiant, and courageous are just some of the words that describe Lee Krasner, the subject of Ruth's very personal memoir inspired by her 1974 summer with the artist in East Hampton. Based on weeks of interviews with Krasner, as well as her friends, art-world luminaries, artists, and others, Ruth opens a window into the artist's private world and illuminates the remarkable work she produced for over six decades.

Ruth Appelhof earned her Ph.D. from Syracuse University, having written her dissertation on American Modernism. Her museum career started at the Whitney Museum as a Helena Rubenstein Fellow. Since then she has directed museums across the country. In 2017 Appelhof was a visiting scholar at the American Academy in Rome. She received two Pollock-Krasner Foundation grants for scholarly research for her book, Lee and Me: An Intimate Portrait of Lee Krasner, just published by Officina Libraria, Milan.
Registration
Bookings are closed for this event.

Head of Academic Engagement
at
Stony Brook University Libraries
Chris is the Head of Academic Engagement and the liaison to the MFAs in Creative Writing, Film, and Theatre.
email: chris.kretz@stonybrook.edu

Latest posts by Chris Kretz (see all)