Date: 10/19/2021

Time: 6:00 pm - 7:15 pm

Location
Zoom
Description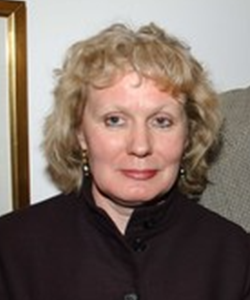 Debra Bricker Balken
Independent curator and author
Harold Rosenberg is still known primarily for a single essay, "The American Action Painters," published in ARTnews in 1952. Not only did it galvanize a still unnamed community of vanguard artists—later known as the New York School—but action became a trope for mid-century art that lasted well into the early 1960s. Debra's talk, which draws from her intellectual biography, Harold Rosenberg, A Critic's Life, published this month, focuses on Rosenberg's notion of action and how its meanings and themes foreshadowed the waning of the modern period.
Debra Bricker Balken has organized many exhibitions on American modernism and contemporary art. Her award-wining books include Philip Guston's Poor Richard (2001) and Abstract Expressionism: Movements in Modern Art (2005). Among her exhibition catalogs are Dove/O'Keeffe: Circles of Influence (2009), John Marin: Modernism at Midcentury (2011), and Mark Tobey: Threading Light (2017). She recently completed a revision of Arthur Dove: A Catalogue Raisonné of Paintings and Things, which was published in May.
Registration
Please register for the event via Zoom.
After registering, you will receive a confirmation email containing information about joining the meeting.
Stony Brook University Libraries is proud to present this lecture series co-sponsored by the Pollock-Krasner House and Study Center and made possible by support from the John H. Marburger III Fund of Stony Brook University.
If you have a disability and are requesting accommodations in order to fully participate in this event, please email libraryevents@stonybrook.edu or call 631-632-7100.

Web Services and Data Librarian
at
Stony Brook University Libraries
Claire is the Web Services and Data Librarian and the liaison to the Department of Art.

Latest posts by Claire Payne (see all)