In the latest issue of Stony Brook University Magazine, the feature "Rare Treasures," highlights diverse poetry collections from Special Collections and University Archives (SCUA) in celebration of National Poetry Month in April.
The Poetry Center Archive: Stony Brook University has a long tradition of hosting readings of revered, emerging, and student poets. The Poetry Center Archive includes video and audio recordings that document poetry readings and programs held on the Stony Brook campus between 1967 and 1980.  Digitization of several early poetry readings that pre-date the center were filmed and can now be watched freely online. Among the poets featured in this archive are Allen Ginsberg, Robert Lowell, Kofi Awanoor and Gwendolyn Brooks.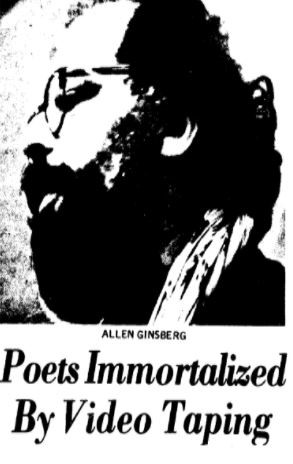 William Butler Yeats Collection: William Butler Yeats (1865-1939) was a prominent Irish poet and playwright, as well as a leader in the Irish Literary and Theatre Movements. He was awarded the Nobel Prize for Literature in 1923. Spanning the years 1775 to 1973, the collection, originally reproduced on 34 reels of 16mm microfilm, includes manuscripts, correspondence, documents, printed materials, memorabilia, music, drawings, sketches, still pictures and portraits of Yeats, his family and his friends. Of particular interest to scholars are the unpublished works of Yeats, his many drafts and revisions of both published and unpublished works, and the correspondence files.
Jorge Carrera Andrade Collection: Poet, essayist and diplomat Jorge Carrera Andrade (1902-1978) was born in Quito, Ecuador. In 1922, he published his first book of poetry, Estanque inefable. An eminent and influential 20th century Latin American author, his career path was unique and included serving as a diplomat in Ecuador's foreign service, Senator of the Republic of Ecuador, and ambassador to France. In 1970­ and 1972, he taught at Stony Brook University in the Department of Romance Languages. At times he lived in exile, and he chronicled his life experiences in correspondence, autobiographical writings, and poetry.
Special Collections and University Archives steward the university's collections of rare books, manuscripts, historical maps, and archives. For more information, visit stonybrook.edu/libspecial.

Associate Librarian; Director, Special Collections and University Archives; and University Archivist
at
Stony Brook University Libraries
Contact her for research assistance with rare books, manuscript collections, historical maps, and SBU history. E-mail: kristen.nyitray@stonybrook.edu.

Latest posts by Kristen Nyitray (see all)