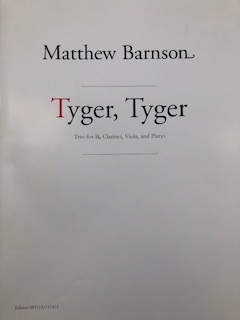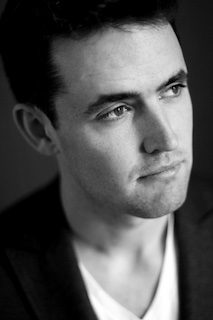 The Music Library has recently added a number of works by Music Department faculty member Matthew Barnson to our collections. Professor Barnson teaches composition, electronic music, theory and the history of music after 1945. He composes for orchestras, choirs, string quartets, voices, chamber ensembles, dancers and computers. His works have been performed and recorded by the Arditti String Quartet, the Curtis Symphony Orchestra, the New York Virtuoso Singers, members of the Philadelphia Orchestra, and countertenor Ian Howell. He was awarded the 2009 Charles Ives Prize, and has received awards or commissions from the Barlow Endowment, the Aaron Copland House, NewMusicUSA, the Jerome Foundation, Yale University and the American Academy of Arts and Letters, among others.
Scores and parts added to the collections include the following:
Another Tiger: Trio for E-flat Clarinet, Violoncello and Piano
Ritornelli (2016)
The Rules and Exercises of Holy Dying (Memento Mori after Gerhard Richter) (2012)
Secondary Colors : Episodes for Orchestra
Shattered Lines/Points of Horizon : for Piano
Sibyl Tones : String Quartet No. 1
String Quartet No. 2
String Quartet No. 3
Tyger, Tyger : Trio for B-flat Clarinet, Viola and Piano
Vanitas : Pieces for Violoncello and Marimba (2018)
Please ask a library staff member if you are interested in finding a particular score or set of parts. Congratulations Professor Barnson on your achievements, and thank you for making these acquisitions possible!


Head, Music Library
at
Stony Brook University Libraries
Gisele is the Head of the Music Library. She is the liaison to Music, Africana Studies, Anthropology, and Sociology.
email: gisele.schierhorst@stonybrook.edu

Latest posts by Gisele Schierhorst (see all)