While Halloween isn't until the end of the month, the Southampton library spares no time to decorate for the season.

Southampton Library Supervisor, Nicki Loder, created two book displays to help celebrate the month of October.

Need a scary read? Check out the suggestion display full of Spooky Stories, Gruesome Graphic Novels, and even Horror Films. With sub-genres ranging from science fiction, supernatural, poetry, non-fiction, and even comedy!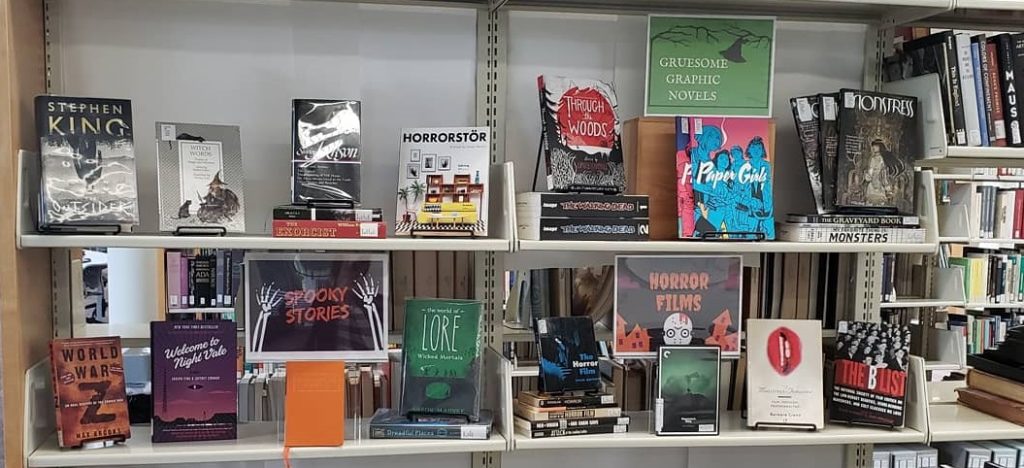 Suggestions include…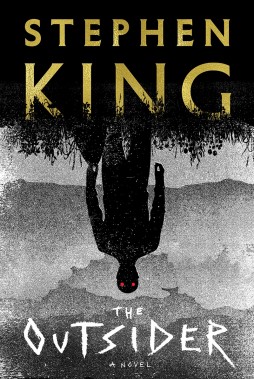 The Outsider by Stephen King
An eleven-year-old boy's violated corpse is found in a town park. Eyewitnesses and fingerprints point unmistakably to one of Flint City's most popular citizens. He is Terry Maitland, Little League coach, English teacher, husband, and father of two girls. Detective Ralph Anderson, whose son Maitland once coached, orders a quick and very public arrest. Maitland has an alibi, but Anderson and the district attorney soon add DNA evidence to go with the fingerprints and witnesses. Their case seems ironclad.

As the investigation expands and horrifying answers begin to emerge, King's propulsive story kicks into high gear, generating strong tension and almost unbearable suspense. Terry Maitland seems like a nice guy, but is he wearing another face? When the answer comes, it will shock you as only Stephen King can.(Cover image and text from StephenKing.com)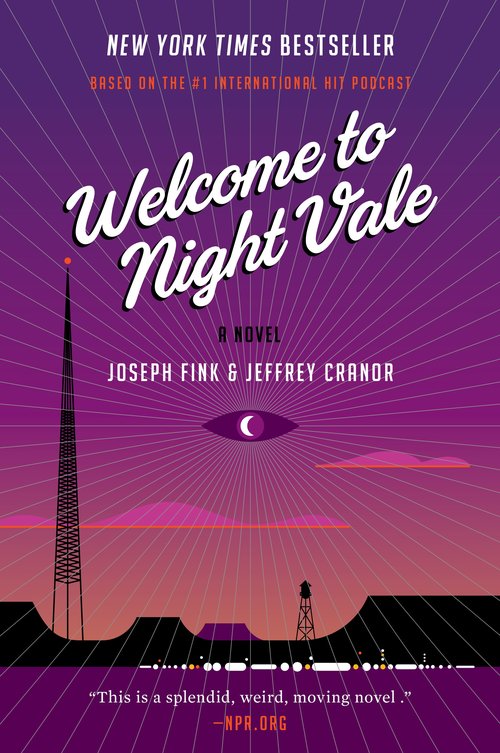 Welcome to the Night Vale by Jeffrey Cranor and Joseph Fink
From the creators of the #1 international hit podcast Welcome to Night Vale comes an imaginative mystery of appearances and disappearances that is also a poignant look at the ways in which we all struggle to find ourselves . . . no matter where we live.

Welcome to Night Vale . . . a friendly desert community somewhere in the American Southwest. In this ordinary little town where ghosts, angels, aliens, and government conspiracies are commonplace parts of everyday life, the lives of two women, with two mysteries, are about to converge. (Cover image and summary from WelcometoNightVale.com)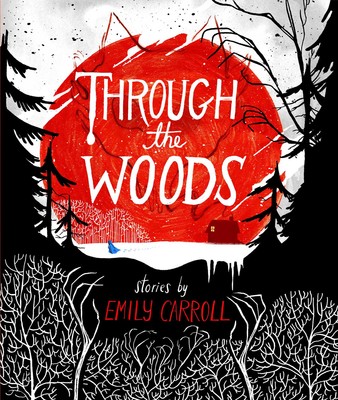 Through the Woods by Emily Carroll
Journey through the woods in this sinister, compellingly spooky collection that features four brand-new stories and one phenomenally popular tale in print for the first time. These are fairy tales gone seriously wrong, where you can travel to "Our Neighbor's House"—though coming back might be a problem. Or find yourself a young bride in a house that holds a terrible secret in "A Lady's Hands Are Cold." You might try to figure out what is haunting "My Friend Janna," or discover that your brother's fiancée may not be what she seems in "The Nesting Place." And of course you must revisit the horror of "His Face All Red," the breakout webcomic hit that has been gorgeously translated to the printed page.

Already revered for her work online, award-winning comic creator Emily Carroll's stunning visual style and impeccable pacing is on grand display in this entrancing anthology, her print debut. (Cover image and summary from SimonandSchuster.com)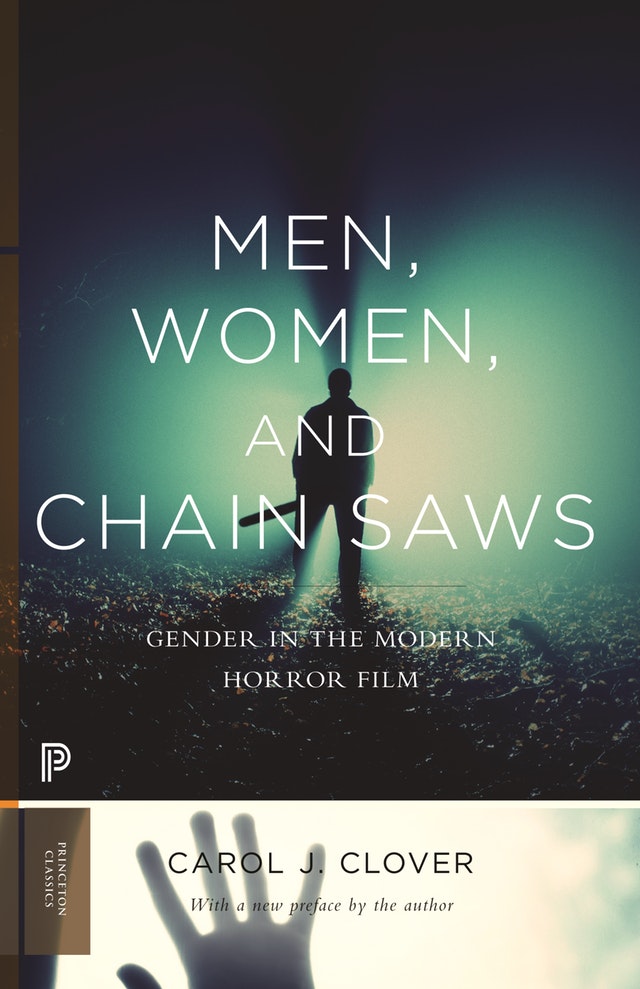 Women, and Chainsaws by Carol J. Clover
From its first publication in 1992, Men, Women, and Chain Saws has offered a groundbreaking perspective on the creativity and influence of horror cinema since the mid-1970s. Investigating the popularity of the low-budget tradition, Carol Clover looks in particular at slasher, occult, and rape-revenge films. Although such movies have been traditionally understood as offering only sadistic pleasures to their mostly male audiences, Clover demonstrates that they align spectators not with the male tormentor, but with the females tormented—notably the slasher movie's "final girls"—as they endure fear and degradation before rising to save themselves. The lesson was not lost on the mainstream industry, which was soon turning out the formula in well-made thrillers.

Including a new preface by the author, this Princeton Classics edition is a definitive work that has found an avid readership from students of film theory to major Hollywood filmmakers. (Cover image and summary from Press.Princeton.edu)

(Check out the display for all suggested titles!)
Scary books, not for you? Check out the You Can't Spell 'Books' without BOO display! Books from the Southampton collection have donned their costumes as pumpkins, Frankenstein's monster, a ghost, and a black cat!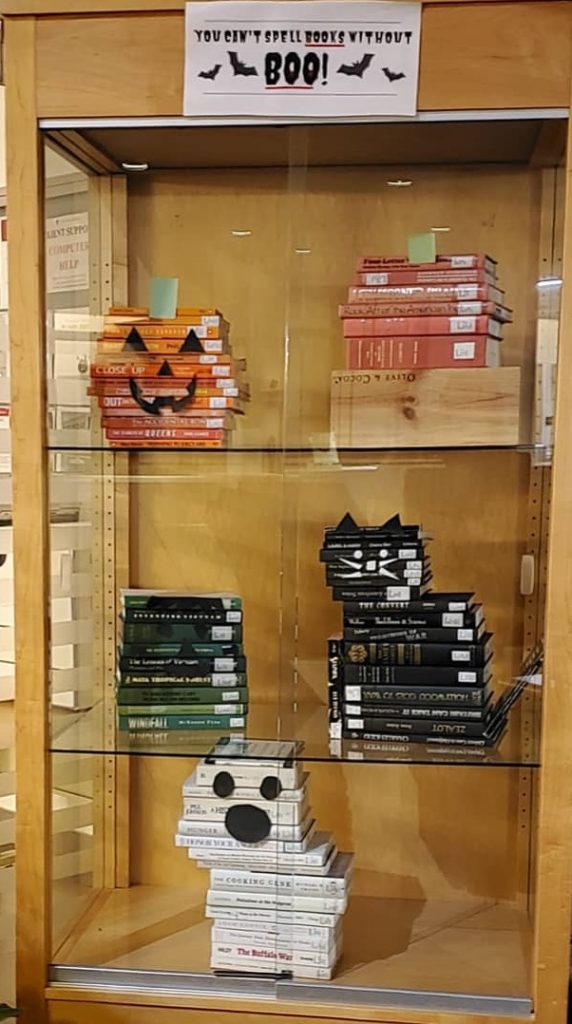 Come see these fang-tastic displays before the end of October!
Latest posts by Nicki Loder (see all)