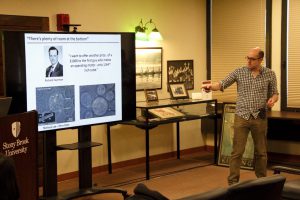 On February 19, 2019, Dr. Steven Glynn from the Department of Biochemistry and Cell Biology presented his intriguing research on ATP (adenosine triphosphate).

In his talk, Dr. Glynn explained that the process of ATP being converted to ADP (adenosine diphosphate) provides ATP-fueled cell motors with the energy to power key life events of the cell. Dr. Glynn further illustrated in detail how bioimaging is uncovering more about how ATP-fueled motors function.

Dr. Glynn answered interesting questions during and after the lecture.

Clara is the member of the Library STEM Team.
Email: clara.tran@stonybrook.edu

Latest posts by Clara Tran (see all)