At our second Art in Focus lecture of the summer, Dr. Elliot Bostwick Davis took us on a journey that included cave paintings, petroglyphs, Arizona landscapes, sand art, the WPA, the Art Student League, and an apartment on East Sixty-First Street. These are all elements that swirled around the creation of Jackson Pollock's Mural, painted in 1943.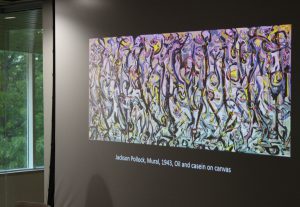 Davis, the John Moors Cabot Art Chair of the Americas Department at the Museum of Fine Arts, Boston, has been researching the mural that Peggy Guggenheim commissioned form Pollock for her New York City apartment. The huge resulting canvas, filled with bright colors and energetic forms, helped propel Pollock to the forefront of the art world. Within those forms can be seen many possible strands of influence that Davis tied together, weaving a picture of possibilities.
Among some of the many highlights from what we learned about the art world of New York at that time: David Alfaro Siqueros was running an experimental workshop for artists and exposed Pollock to  unconventional painting techniques;  a 1941 MOMA exhibit of Native American Art included demonstrations of Navajo sand painting; German ethnologist Leo Frobenius was touring museums with watercolor copies of prehistoric art gathered from sites around the world.
There's more to this fascinating piece so if you get the chance, try to see Pollock's Mural on tour. It will be in Boston from July 2019 – January 2020 so if you make it up there, say hello to Elliot!
The Art in Focus lecture series is co-sponsored by the Pollock-Krasner House and Study Center and made possible by support from the John H. Marburger III Fund of Stony Brook University. The lectures are free and open to the public. We hope you can join us for our final talk be on June 19th.

Head of Academic Engagement
at
Stony Brook University Libraries
Chris is the Head of Academic Engagement and the liaison to the MFAs in Creative Writing, Film, and Theatre.
email: chris.kretz@stonybrook.edu

Latest posts by Chris Kretz (see all)