University Libraries in collaboration with the Music Department and Office of the Provost celebrated four decades of achievements of the Emerson String Quartet with the launching of an exhibit followed by a panel discussion featuring all members of the Emerson Quartet.
The exhibition, located by Melville's Music Library and now open to everyone, features banners, photos, and posters on the history of the Emerson Quartet who are currently in residence and on the faculty at Stony Brook University.  This exhibition allows for someone walking the hallway to the Music Library to experience the lives of the Emerson Quartet, from the forming of the group and their first season in 1976 to their 41st season ending in 2017, with an account of their unparalleled list of achievements over these four decades.  The exhibition is truly an eye-catcher for not only it's impressive content but for how the bare brick walls were transformed into a hallway of art.
Following the opening of the exhibition, a large audience gathered in the Library's Central Reading Room to hear the Emerson String Quartet recount their experiences and adventures as one of the world's top chamber ensembles.  The panel discussion, moderated by Chair of Music Department Perry Goldstein, featured all members of the current Emerson Quartet, former member David Finckel, and recording engineer Da Hong.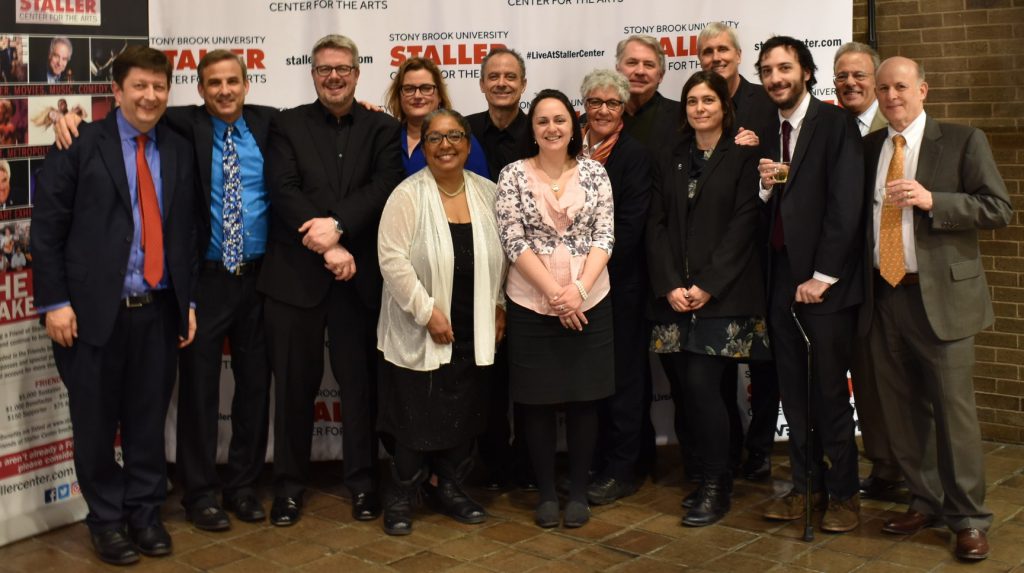 From left to right: Sacha Kopp, Dean of College of Arts and Sciences, Alan Inkles, Director of Staller Center, Paul Watkins, Emerson String Quartet, Christina Dahl, Associate Professor in Music Department, Gisele Schierhorst, Head of Music Library, Eugene Drucker, Emerson String Quartet, Kathleen Kasten, Head of Humanities Librarian, Constantia Constantinou, Dean of University Libraries, Philip Setzer, Emerson String Quartet, Victoria Pilato, Digital Projects Librarian, Lawrence Dutton, Emerson String Quartet, Ross Aftel, Ph.D Candidate, Michael Bernstein, Provost and Senior Vice President for Academic Affairs, Perry Goldstein, Chair of Music Department
The evening culminated with the Emerson String Quartet concert at the Staller Center where the University Libraries and Music Department were repeatedly acknowledged for their excellent partnership efforts in celebrating the achievements of the famed string ensemble. The entire day's celebration were made possible with the close collaboration among University Libraries, Music Department, Office of the Provost, and the members of the Emerson String Quartet.  The Library expresses appreciation to all its faculty and staff for their encouragement and support, with special thanks to Library IT, Music Library, Research and User Engagement, Special Collections, and all the Student Assistant volunteers.

Interim Dean
at
University Libraries
email: shafeek.fazal@stonybrook.edu

Latest posts by Shafeek Fazal (see all)