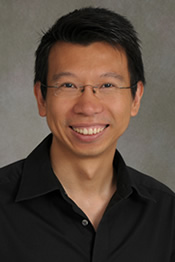 The University Libraries is pleased to announce its third and final lecture of the fall 2017 STEM Speakers Series presented by Dr. Ming-Yu Ngai, Department of Chemistry.
Title: "Visible-Light-Driven Artificial Photo-synthesis in Organic Synthesis"
Date: Tuesday, November 14 from 1pm-2pm
Location: Special Collections Seminar Room, E2340, second floor of the Melville Library
Visible light, one of the most abundant renewable energies, has been used to enable a broad range of transformations in nature. Photosynthesis, a visible-light-driven conversion of carbon dioxide and water into carbohydrate and oxygen under ambient conditions, is undoubtedly one of the most critical processes on earth. Drawing inspiration from this elegant process, Dr. Ngai's lab focuses on the discovery and development of artificial photo-synthetic reactions for the synthesis of complex and value-added functional molecules from simple chemical building blocks using visible light. In this seminar, Dr. Ngai will describe their progress and future directions in the design and development of novel visible-light-driven chemical transformations.
All are welcome to attend. Please register here and join us for this special event.

Clara is the liaison to the Department of Chemistry, Electrical & Computer Engineering, Mechanical Engineering, and the Women in Science and Engineering program.
Email: yuet.tran@stonybrook.edu

Latest posts by Clara Tran (see all)