On September 19, Dr. Chang Kee Jung, SUNY Distinguished Professor in Physics, kicked off the first lecture of the fall 2017 University Libraries STEM Speakers Series and engaged audiences with his talk, "Capturing Innovations and Underlying Physics in Sports" in the Special Collections Seminar Room of the Melville Library.
Dr. Jung explained the extraordinary creative innovations in popular sports such as basketball, high jump, gymnastics, swimming, and figure skating using basic classical physics concepts. It was fascinating to learn about how the center of mass, angular momentum, and momentum of inertia affect how these popular sports are played.
Dr. Jung described the history of the high jump style from the traditional Scissors jump to the nowadays' dominant Fosbury Flop and explained the elegant mathematics and physics behind high jumping. Additionally, Dr. Jung showed exclusive New York Times videos that highlighted innovative feats of athletes like Simone Biles, Derek Drouin and Ryan Lochte.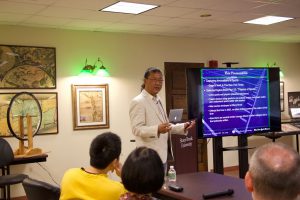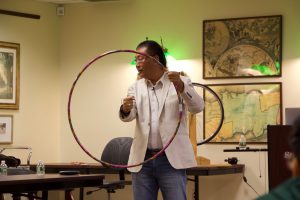 Dr. Jung also illustrated physics through two intriguing demonstrations. It was a remarkable lecture!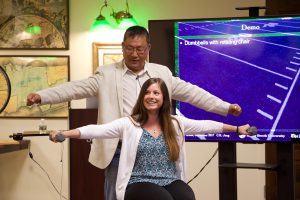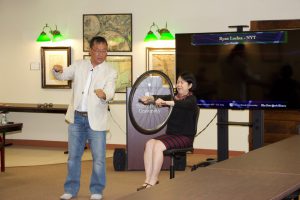 Clara is the member of the Library STEM Team.
Email: clara.tran@stonybrook.edu

Latest posts by Clara Tran (see all)