The Art in Focus Lecture Series returns on September 26th with Charles A. Riley II, director of the Nassau County Museum of Art, discussing the creative and social ferment of 1920s Paris.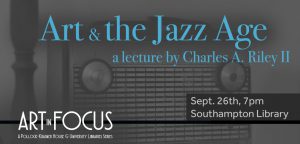 Drawing on his 2017 book, Free as Gods: How the Jazz Age Reinvented Modernism, Riley will reveal a heady decade of artistic activity during which everyone came to Paris to test out their ideas. The cast includes Hemingway, Picasso, Joyce and many more noted (and underappreciated) authors, composers, and artists – all working to an imported American jazz beat.
The talk starts at 7:00 pm in the library on the Southampton campus.  The event is free although registration is recommended.
The University Libraries' Art in Focus Southampton events are co-sponsored by the Pollock-Krasner House and Study Center and made possible by support from the John H. Marburger III Fund of Stony Brook University. These events are part of the Libraries' continuing mission to engage in scholarly, cultural, and artistic interactions with Stony Brook University and the community. Stay tuned for other events in the Art in Focus lecture series throughout the year.

Head of Academic Engagement
at
Stony Brook University Libraries
Chris is the Head of Academic Engagement and the liaison to the MFAs in Creative Writing, Film, and Theatre.
email: chris.kretz@stonybrook.edu

Latest posts by Chris Kretz (see all)