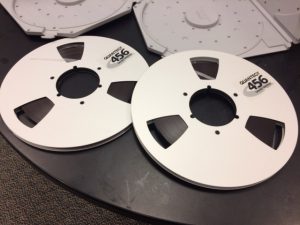 The Music Library's reel-to-reel recordings represent the early history of the University's Music Department.  For several decades, faculty and student recitals, symphony, chamber music and choral concerts were recorded directly to the reels, and archived in the Music Library.  Among the items is the final DMA recital of Dr. Jacques Després, now an established concert pianist and educator (https://www.ualberta.ca/arts/about/people-collection/jacques-despres).
When Dr. Després recently requested a copy of his 1990 recital, the University Library's multimedia resources team digitized the content of the two reels with great success—excerpts appear below.  Fortunately, the reels were in excellent condition and the audio is of high quality. The team members digitized the reels in 3 formats: uncompressed archival quality AIFF, mp3, and Apple m4a files.
Reels are generally known to have a limited shelf life, so there is great potential in digitizing and saving the content of these materials, which contain original compositions and performances by alumni who have gone on to stellar careers and who have made lasting contributions to the field of classical music.
Many thanks to Chris Sauerwald and Ben Ramey for sharing their time and talents towards this endeavor!
Jacques Després, pianist:
Limoges, from Musorgsky's Pictures at an Exhibition (excerpt):
Copland's Piano Variations (conclusion):
Beethoven's Trio and Scherzo, op. 28 (excerpt):

Head, Music Library
at
Stony Brook University Libraries
Gisele is the Head of the Music Library. She is the liaison to Music, Africana Studies, Anthropology, and Sociology.
email: gisele.schierhorst@stonybrook.edu

Latest posts by Gisele Schierhorst (see all)