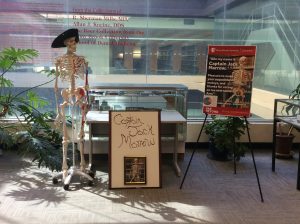 The winning name is Captain Jack Marrow!  
Thank you to all who participated in the skeleton naming contest at the Health Sciences Library.  The raffle winner has been selected and will be announced later this week.
Don't forget, Captain Jack Marrow can be checked out from the Health Sciences Library to help you ace your anatomy exams.  Stay tuned for adventures of Jack Marrow as the semester progresses.

Head of Health Sciences Library
at
Stony Brook University Libraries
Jamie is the Head of the Health Sciences Library. She is the liaison to Medical Humanities, Social Welfare, and Dental Medicine.
email: jamie.saragossi@stonybrook.edu

Latest posts by Jamie Saragossi (see all)