Initially, all authors will manually add their articles to Academic Commons. A publication management system is being investigated to make participation easier for authors. Academic Commons Quick Deposit (PDF).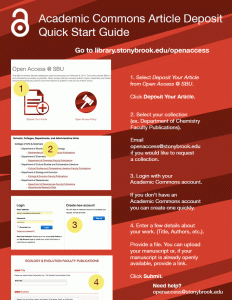 Deposit is managed through Academic Commons, SBU's open access scholarly repository and publishing platform. Click on the Deposit Your Article link to begin the deposit process – or to notify us that your publication is already available in another open access repository. (Note: you will be asked to log in. If you don't yet have an Academic Commons account, you will have the opportunity to create one.)
How To Deposit Your Article
1. Go to Academic Commons.  You can either:

2.   From the homepage left sidebar, click on Deposit Your Work.  Select your collection.
OR
Visit the Collection page (ex., Department of Ecology & Evolution Faculty Publications) and click on the left sidebar Deposit Your Work link.
(If you don't see your collection page let us know, we'll be happy to create it for you. Email openaccess@stonybrook.edu if you would like to request a collection.)

3. Login with your Academic Commons account. If you don't have an Academic Commons account you can create one quickly.

4. Enter a few details about your work. (Title, Authors, etc.).
5. Upload your accepted manuscript file.

6. Click Submit.
See Frequently Asked Questions about the the SBU OA Policy.
Still have questions? Contact us.