Date: 11/01/2017

Time: 10:00 am - 11:00 am

Location
Charles B. Wang Center - Lecture Hall 1
Description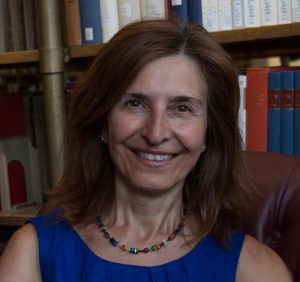 The Antonija Prelec Memorial Fund provides for an annual lecture given by the Antonija Prelec Visiting Scholar. This Scholar is selected by the Antonija Prelec Memorial Committee based on his/her international reputation for expertise in library and information sciences and for innovative and incisive ideas in this field.
The 2017 lecturer will be Oya Rieger, Associate University Librarian at Cornell University and arXiv Program Director. (Pictured)
Ensuring the Sustainability of eScience Collaborations
Creating an open science infrastructure entails a seamless network of content, technologies, policies, expertise and practices.  We need to consider such a scholarly organization as an enterprise that needs to be built, maintained, improved, assessed and promoted over time.  This would require that the academic community join forces to bring together the expertise of scientists, technologists, librarians and other experts.  The presentation focuses on the potential role of research libraries as partners in fostering open science to make scientific process more transparent and results more accessible.  Based on Cornell's experience in running arXiv, a scientific reprints repository, it aims to illustrate how libraries as stewards of information can partner in creating sustainable and innovative information systems to advance science and scholarship.
History and Mission
 The Antonija Prelec Memorial Fund was established in honor of Antonija (Toni) Prelec by her family, friends and colleagues at the Health Sciences Center (HSC) of Stony Brook University. The purpose of the fund is to continue Toni's pursuit of excellence in medical librarianship and to improve the information services provided by the HSC Library.
The Endowment provides grants for an annual visit and lecture by the Antonija Prelec Visiting Scholar, selected for his or her expertise in medical librarianship and information sciences. Income from the Fund also supports visits by HSC librarians to other medical libraries and attendance at conferences. Furthermore, aiming to encourage collaborations and exchanges with medical libraries throughout the world, the Fund can support visits by chosen librarians to the HSC Library.
For more information on the Antonjia Prelec Memorial Lecture series, please visit this guide.
Registration
Bookings are closed for this event.

Interim Associate Dean, Collection Strategy & Management
at
Stony Brook University Libraries
Jamie is the Interim Associate Dean, Collection Strategy & Management.
email: jamie.saragossi@stonybrook.edu

Latest posts by Jamie Saragossi (see all)