Free guided tours of Stony Brook University's diverse art galleries will take place on Saturday, October 23 from 1pm to 3pm as part of campus-wide events for the inauguration of Maurie McInnis, sixth president of Stony Brook University. Participating galleries for the fall 2021 Art Crawl are: Charles B. Wang Center, Paul W. Zuccaire Gallery, Melville Library, and Simons Center Gallery. Join in at any point of the tour! No RSVP needed.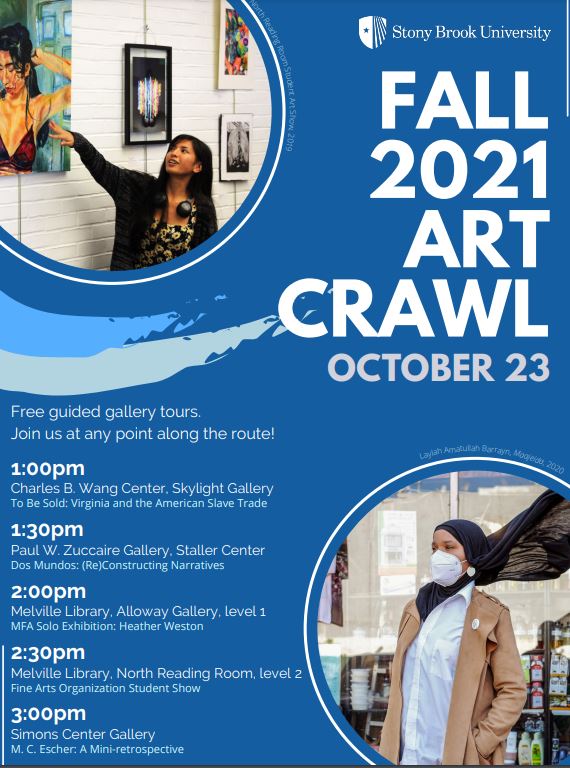 SCHEDULE & MORE ABOUT EACH EXHIBITION
Link to SBU Maps & Directions
1pm | Charles B. Wang Center, Skylight Gallery
To Be Sold: Virginia and the American Slave Trade
To Be Sold examines the American slave trade before the Civil War through the works of British artist Eyre Crowe (1824–1910), who sketched scenes of this inhumane activity that he would later develop into a series of illustrations and paintings, including his Slaves Waiting for Sale (1853). The exhibition is organized in three sections: The Slave Trade and the Rise of Abolitionism, Eyre Crowe and His Paintings, and The Memory of the Slave Trade. It explores the slave trade; the evolving iconography of abolitionist art; and the role of visual culture and the language of abolitionism? in the transatlantic world. The interactive tablets allow audiences to view Crowe's paintings in detail and offer audio of oral histories from formerly enslaved people recorded by the Works Progress Administration in the 1930s. To Be Sold is curated by Maurie D. McInnis, president of Stony Brook University, based on her book Slaves Waiting for Sale: Abolitionist Art and the American Slave Trade (Chicago, 2012). The Exhibition was first organized by the Library of Virginia with support from the National Endowment for the Humanities. Any views, findings, conclusions or recommendations expressed in this exhibition do not necessarily represent those of the National Endowment for the Humanities. On view from September 8 to December 10, 2021.

1:30pm | Paul W. Zuccaire Gallery, Staller Center
Dos Mundos: (Re)Constructing Narratives
Nearly 50 years after Puerto Rican photographers created the first Dos Mundos exhibition in a New York art scene that did not represent them, En Foco's fellowship recipients continue the work of offering fresh visions that contest mainstream perspectives. Evolving to contemporary circumstances and inequities exacerbated by the pandemic, they maintain their commitments to their communities and individual photographic processes. Many of them are also leaders, nurturing other artists of color across the diaspora, in the South, the Bronx, classrooms, and beyond. Dos Mundos: (Re)constructing Narratives features 12 artists that center stories at the fringe of public attention: hidden sanctuaries, subcultures, painful identities, far-away homes, spirituality, transcendence, broken promises, and all too easily ignored social ecologies.

2pm | Melville Library, Lawrence Alloway Memorial Gallery, level 1
MFA solo exhibition: Heather Weston

2:30pm | Melville Library, North Reading Room, level 2
Fine Arts Organization Student Show

3pm | Simons Center Gallery
M. C. Escher: A Mini-retrospective
The Simons Center for Geometry and Physics (SCGP) will present the world-renowned artwork by the Dutch artist Maurits Cornelis Escher (1898-1972) in the fall of 2021 from October 4 to November 15. Escher crafted an extraordinary graphic language inspired by mathematics, puzzles and patterns. As part of the Center's ten year celebration, the SCGP is delighted to host this special exhibition. In addition to Escher's iconic mathematical art, the show will also feature some of his lesser-known early work that focused on nature and landscape. The exhibit is curated by Lorraine Walsh, Art Director and Curator, Simons Center for Geometry and Physics, and Visiting Associate Professor.
***Additionally, weekdays until April 2022 the Latin American and Caribbean Studies Center (LACS) Gallery is open to the public. " ¡ Chile Despertó! : Political Graphics of the 2019-2020 Social Uprising "  is an exhibition of original photographs featuring an eclectic range of political graphics from the 2019-20 social uprising (estallido social)  in Chile, a movement that continues to alter the course of that nation's history. Location: LACS Gallery, Social and Behavioral Science Building, N-320.***

Associate Librarian; Director, Special Collections and University Archives; and University Archivist
at
Stony Brook University Libraries
Contact her for research assistance with rare books, manuscript collections, historical maps, and SBU history. E-mail: kristen.nyitray@stonybrook.edu.

Latest posts by Kristen Nyitray (see all)