Edvard Grieg's (1843-1907) Concerto for Piano and Orchestra, op. 16 is one of the most popular works of its kind in the history of classical music.  Composed in 1868, it is his only completed concerto (there are sketches for a second concerto that was never finished).  Grieg himself was a fine pianist who performed often as a soloist and accompanist, and this is reflected in the volume and quality of his works for piano.
The variety of melodies throughout the first movement contributes to the popularity of this concerto. It begins with rolling timpani and a distinctive and famous melody comprised of a descending 2nd interval followed by a descending 3rd interval.  The melodies throughout the three movements (Allegro molto moderato, Adagio, Allegro moderato molto e marcato) are Grieg's own.  However, this opening motif is characteristic of Norwegian folk music—it is but one example of how Grieg incorporated the characteristics of music from his homeland into his compositions. The rhythms in the work are taken from traditional Norwegian dance music, and the "off beat," accents reinforce the feeling of dance.[i]
During Grieg's stay in Italy in 1869 composer Franz Liszt played through the concerto and gave the 24-year old Grieg the warmest praise and encouragement.  The concerto was premiered by Norwegian pianist and composer Edmund Neupert in Copenhagen in April 1869.  Although Grieg could not be in attendance, the concerto was met with a wildly enthusiastic reception, and some grumbling from professional critics.  It has remained a favorite of audiences and musicians ever since, and is currently considered part of the piano's "central repertory."[ii]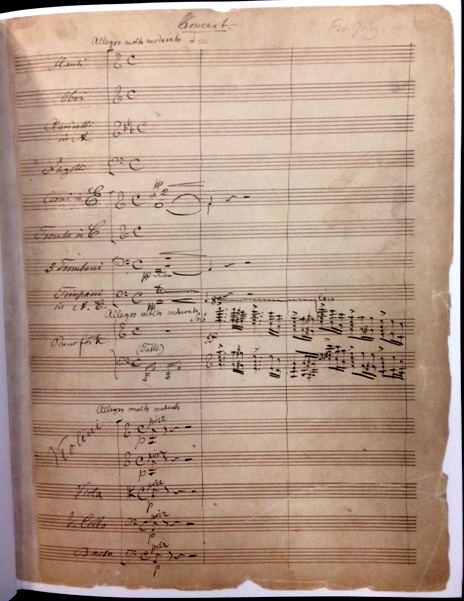 The autograph for the concerto now resides in the National Music Collection, in Norway's University of Oslo Library.  The Stony Brook University Music Library owns a limited edition facsimile of the manuscript.  This primary source is very readable, and contains corrections and changes the composer made after its debut up until the first edition was printed in 1872.[iii]
The many recordings available of this work include one featuring Van Cliburn as soloist with the Philadelphia Orchestra, Eugene Ormandy, conductor.
[i] John Horton and Nils Grinde, "Grieg, Edvard (Hagerup)," in Grove Music Online/Oxford Music Online,    http://www.oxfordmusiconline.com.proxy.library.stonybrook.edu/grovemusic, Accessed August 8, 2018.
[ii] For further history and analysis, see Finn Benestad and Dag Schjelderup-Ebbe, Edvard Grieg: The Man and the Artist, trans. by William H. Halverson and Leland B. Sateren (Lincoln: University of Nebraska Press, 1988), p. 113-124; and Edvard Grieg, Klaverkonsert i a-moll, ed. by Kjell Skyllstad, Band 10 of Samlede Verker, utgitt av Edvard Grieg-Komité, Oslo (New York: C.F. Peters, 1980), p. 81-121.
[iii] Edvard Grieg, Konsert for klaver og orkester i a-moll, op. 16, Originalmanuskript I Norsk Musikksamling, Universitetsbiblioteket i Oslo Ms 67:14 (Oslo : Norsk Musikksamling, Universitetsbiblioteket I Oslo, 1993), p. [iv-v].

Head, Music Library
at
Stony Brook University Libraries
Gisele is the Head of the Music Library. She is the liaison to Music, Africana Studies, Anthropology, and Sociology.
email: gisele.schierhorst@stonybrook.edu

Latest posts by Gisele Schierhorst (see all)