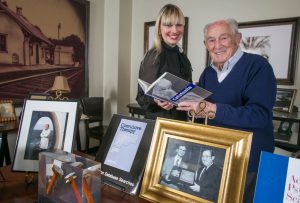 Stony Brook University is highlighting the pioneering career and papers of Max Fink, MD. Dr. Fink, Professor of Psychiatry and Neurology Emeritus at SBU is a world-leading expert and defender of electroconvulsive therapy (ECT), and the focus of a new collection at the Stony Brook University Libraries. A feature article currently appears on the university's homepage and the websites of the School of Medicine, Department of Psychiatry, and the Neurosciences Institute. Read the entire article here.
The University recently announced the opening of the Max Fink Papers and Digital Collection. The digital collection, a subset of the papers, includes nearly 7,000 items (20,000 pages) of Dr. Fink's original notes on experimental psychiatry, outgoing letters to colleagues, professional writings and an autobiographical memoir completed in 2017. The archive documents the extraordinary career of the psychiatrist and neurologist, who founded the journal Convulsive Therapy, published the definitive medical textbook on ECT and has provided expertise and commentary in media productions, including as a consultant on A Beautiful Mind (2001), an Academy-award winning movie about schizophrenia.
"Dr. Fink's pioneering research in the field of electroconvulsive shock therapy is of high research and scholarly value to students, faculty and to global researchers, and now that it is accessible digitally, it can get into the hands of more people, more quickly," said Stony Brook University President Samuel Stanley Jr., MD. "He has had a transformational impact on the field of psychiatry, and we are honored to hold his collection at Stony Brook University."
Comprised of nearly 250 linear feet (475 boxes) of research materials dating from the 1880s through 2017, the collection at SBU includes Dr. Fink's notes, manuscripts, publications, correspondence, grant reports and visual materials on the study of convulsive therapy (electroshock), catatonia, melancholia, pharmaco-electroencephalography and psychopharmacology. Opening the papers will provide new opportunities for scholarship and insights into Dr. Fink's pioneering research in these specialized areas of psychiatry. The collection is the culmination of an extensive, multi-year effort of archival processing, cataloging and digitization which was supported by Max and Martha Fink.
Photo: Kristen Nyitray, (left), Director of Special Collections and University Archives and Max Fink, MD, (right), Professor of Psychiatry and Neurology Emeritus.

Associate Librarian; Director, Special Collections and University Archives; and University Archivist
at
Stony Brook University Libraries
Contact her for research assistance with rare books, manuscript collections, historical maps, and SBU history. E-mail: kristen.nyitray@stonybrook.edu.

Latest posts by Kristen Nyitray (see all)