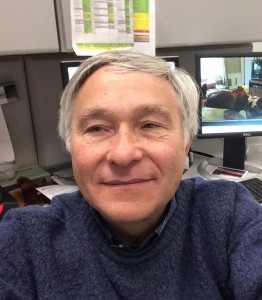 On January 13, 2016, Nathan Baum, Associate Dean for Collection Strategy and Management, will retire from Stony Brook University Libraries after 35 years.  Nathan began his career as a librarian at Evans Library (Texas A&M University) in 1977.  Arriving at Stony Brook University in 1981, Nathan served as a Reference Librarian and selector for the Harriman School of Management and Policy.  In 1986 he became Head of Reference, a position he held until being appointed Digital Resources Librarian in 1999.  Nathan became Assistant Director for Electronic Resources and Services in 2004, serving in this capacity until 2010 when he was named Associate Director for Collection Strategy and Management.  He became Associate Dean for Collection Strategy and Management in 2015.
Nathan holds an MLS from SUNY Albany, an MA in English Literature from the University of British Columbia, and a BA in English Literature from McGill University.
Nathan's career coincides with the transition from the print library to the digital/electronic library.  He was closely involved in this transformation at the two libraries where he has worked.  During his three years at Texas A&M University, he was trained in what was then the new world of online database searching, at a time when that activity was still mediated by librarians, and when the leading edge of technology consisted of "dumb" terminals and acoustic couplers connecting to remote mainframes where the actual data (mostly article citations with abstracts) and search software resided.  He continued to perform mediated searching for faculty and students when he came to Stony Brook University, and also led the effort to acquire and integrate CD-ROM databases for direct user access.  To help the Libraries transition to end-user online database search systems and more direct user access to full-text databases and journal collections that we now take for granted, Nathan stepped into the then-newly created position of Head of Electronic Resources to lead us into this brave new digital information landscape.  As his portfolio widened to include Collection Strategy and Management, he retained many of his responsibilities for building and servicing the electronic resources of the University Libraries, and succeeded in adding significant e-text and e-book collections to the electronic journal collections.
Transforming SBU Libraries into one with a robust digital collection was a complex endeavor, affecting all parts of the organization.  But this project gave everyone the welcome opportunity to work with Nathan and his calm, reassuring style and dry sense of humor.  Nathan is genuinely admired and respected by faculty and staff members as a thoughtful, generous, and trusted colleague, mentor, and role model, well-known as a catalyst for teamwork and organizational harmony.  The Stony Brook University Libraries have been incredibly fortunate to have him in our leadership.  His dedication to building a robust and balanced research collection, philosophy of user-centered service, and contagious collegiality will have a lasting impact on the Libraries as we continually evolve to meet the information needs of the Stony Brook University community.
After 35 successful years at Stony Brook University, Nathan looks forward to travelling to Florida and Hawaii in the coming months, with his Florida trip planned the day after he retires!  He also plans to travel overseas and to take road trips within the United States and Canada.  He looks forward to spending more time reading and doing research on topics of personal interest.  We at University Libraries are indebted to Nathan for his deep expertise and dedicated service and wish him the very best in this next chapter of his life.

Associate Dean, Research & User Engagement
at
Stony Brook University Libraries
email: janet.clarke@stonybrook.edu

Latest posts by Janet Clarke (see all)