Stony Brook Libraries Access and User Services department is proud to announce that on Wednesday, June 21, our colleague Jay Levenson was awarded the Frederick R. Preston Partnership Awards from the Office of the Dean of Students. The award was given in appreciation for his hard work and dedication in bringing a fuller understanding of Native American culture, art and history to our campus.
In May 2016, Jay was awarded a Presidential Mini-Grant for Departmental Diversity Initiatives. With this grant, Jay created and organized the "Native American Heritage Awareness Program" which took place last fall. This month-long program, co-sponsored by several academic and administrative departments, and assisted by the Native American Student Organization, was filled with music, dance, fascinating talks and cultural displays.
And he's done it again this year! This new mini-grant was awarded for his proposal of "using diversity to bridge the barriers between academic disciplines." 
Congratulations, Jay! We can't wait to see what you're planning next!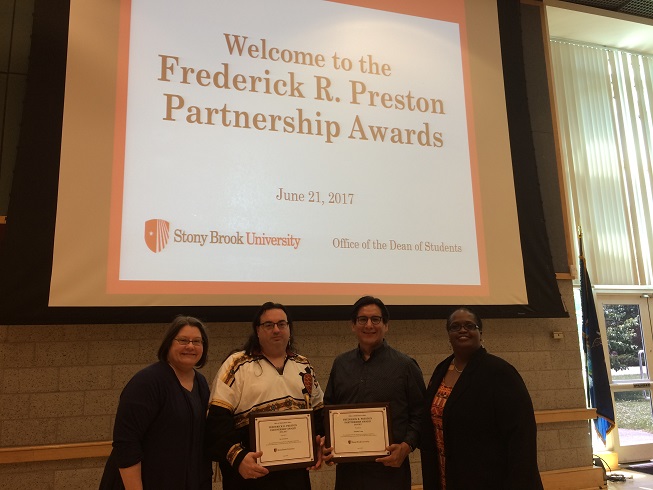 Image L-R: Diane Englot, Access Services; Jay Levenson; Prof. Timothy Long, Department of Music ; Cheryl Chambers, Office of Student Affairs.
Latest posts by Diane Englot (see all)