A small but rich subset of the Music Library's sound recordings collection covers many landmark moments in Black History through music, literature, drama, activism and oratory.  Below are further details highlighting particular items of interest.  More will be added throughout the month: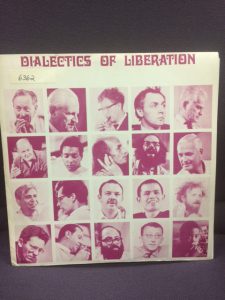 Carmichael, Stokely.  "Black Power I."  Dialectics of Liberation Congress.  DL 6.  July 1967.  Music Library Audio LP 6362.
From July 15-30, 1967, the Institute of Phenomenological Studies in London hosted a Congress entitled the Dialectics of Liberation.  Political activist Stokely Carmichael was among the guest lecturers.  The 24-year-old Carmichael was raised in the slums of Trinidad, the West Indies, New York City and Washington D.C. where he attended Howard University.  Toughened by ghetto life, Carmichael was a militant leader of Howard University's student government as well as the Chairman of the Student Non-Violent Coordinating Committee.  Carmichael's thoughts flowed continuously before a live audience as he described the differences between "individual," and "institutionalized," racism, the struggle for Black power in the United States, and the perpetual fight of nonwhite people for cultural integrity worldwide.  He admonished the "spontaneous and inevitable," proliferation of ghettos in every major city throughout the United States as a "frightening" result of racism.  He assailed the imperialism of England and the United States, the "barbaric," acts of Western civilization and provided many examples of the distortion of Western history.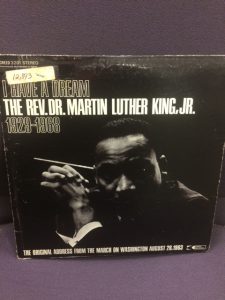 I Have a Dream : Rev. Dr. Martin Luther King, Jr., 1929-1968:  the Original Address from the March on Washington, August 28, 1963.  Creed 3201.  Music Library Audio LP 12,893.
This album presents speeches recorded live at the 1963 March on Washington.  "I am happy to join with you today," King declared, "in what will go down in history as the greatest demonstration for freedom in the history of our nation."  The March on Washington for Jobs and Freedom took place a century after Abraham Lincoln's signing of the Emancipation Proclamation.  But, as King observed, 100 years later, black society was still crippled by segregation, discrimination and poverty in a nation of vast prosperity.  The masterful rhetoric and metaphor throughout King's famous call for justice are why his "I Have a Dream," speech has resounded for generations.  He invoked the intent of historical legislation (for "all men, yes, black men as well as white men…"), and assessed it against those voiceless black citizens of 1963 suffering "great trials and tribulations…fresh from narrow jail cells," and living in slums and ghettos, unable to vote or despairing that there is "nothing for which to vote."
King's speech appears first on the album but it was in fact last in a string of stirring speeches that day, with many compelling moments, given by other black leaders also deeply involved in organizing the March.   The commanding voice of A. Phillip Randolph, head of the Brotherhood of Sleeping Car Porters (the first union led by African-Americans) assured the audience that the March "is not the climax of our struggle, but a new beginning not only for the Negro but for all Americans who thirst for freedom and a better life."   Randolph continued, "Look for the enemies of Medicare, of higher and minimum wages, of Social Security, of federal aid to education and you will find the enemy of the Negro…"
Dr. Benjamin E. Mays gave a Benediction at the March, stating in part, "Here we are God, 180 million people, 100 years after Lincoln freed the slaves, 98 years after the close of a bloody civil war fought to preserve one nation under God indivisibly, 187 years after Jefferson declared that all men are created equal…Here we are God, confused, baffled, floundering, faithless, debating whether the Congress of the United States should pass legislation guaranteeing to every American the equal protection of the law, debating whether its business should have the right to discriminate against a man because thou, oh God, made him Black!"
Bayard Rustin, the chief organizer of the March, read aloud the demands of the March for vocal affirmation by the crowd.  Randolph read a pledge of commitment to "the achievement of social peace through social justice," and urged the crowd to sign pledge cards with their names, addresses and the date.  The cards "should be kept and framed and placed in your home for the inspiration of generations to come," he said.
Roy Wilkins, champion of civil rights and executive secretary of the National Association for the Advancement of Colored People said, "We're here today because we want the Congress of the United States to hear from us in person what many of us have been telling our public officials back home and that is we want freedom now!"  Wilkins called for "employment, and with it the pride and responsibility and self-respect that goes with equal access to jobs; therefore we want an F[air] E[mployment] P[ractice] C[ommittee] bill as part of the legislation package."  To the crowd's approval, Wilkins demanded school desegregation, and for the Justice Department to "speed the end of Jim Crow schools, south and north." He called for an end to violence, stating, "…All over this land, and especially in parts of the deep South, we are beaten and kicked and maltreated and shot and killed, by local and state law enforcement officers.  It is simply incomprehensible," Wilkins continued, "to us here today and to millions of others far from this spot, that the United States government, which can regulate the contents of a pill, apparently is powerless to prevent the physical abuse of citizens within its own borders."
Wilkins found President Kennedy's civil rights proposals at the time, to "represent so moderate an approach that if it is weakened, or eliminated the remainder will be little more than sugar water…We're tired," he continued, "of hearing rules cited as a reason why they [i.e. Congress] won't act.  Now we expect the passage of a Civil Rights bill!"
John Lewis, Chair of the Student Non-Violent Coordinating Committee (preceding Stokely Carmichael), and at 24, the youngest of the speakers, began, "We march today for jobs and freedom, but we have nothing to be proud of.  For hundreds and thousands of our brothers are not here."  He mentioned Mississippi sharecroppers earning less "than three dollars a day," working "twelve hours a day," and "students in jail on trumped-up charges."  Lewis continued, "We come here today with a great sense of misgiving."
Lewis identified the shortcomings of the proposed civil rights legislation.  It provided no protection, Lewis argued, for those engaged in peaceful protest, those who want to vote but lack a sixth-grade education, those who dared register to vote, or equality for "a maid who earns five dollars a week in a home of a family whose income is $100,000 a year."
Lewis excoriated the state of the American political party system.  "By and large, American politics," he said, "is dominated by politicians who build their careers on immoral compromises and ally themselves with open forms of political, economic and social exploitation…What political leader can stand up and say, 'My party is the party of principles?'…Where is our party?  Where is the political party that will make it unnecessary to march in Washington?"
Finally Whitney M. Young Jr., Executive Director of the National Urban League, chastised those "who would make deals, water down civil rights legislation, or take cowardly refuge in technical details around elementary human rights.  They would even now," Young Jr. continued, "delay until after Christmas the consideration of these bills before Congress…This March must go beyond this historic moment…Civil rights are not negotiable in 1963."  With such a recording one can easily return to the original moments and contexts where these remarks were first heard.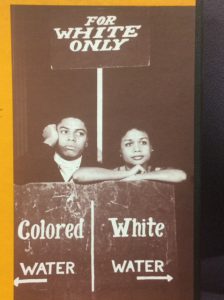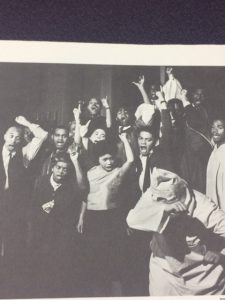 Hughes, Langston.  Langston Hughes' Jerico-Jim Crow.  Music arranged and directed by Professor Hugh Porter.   Directed by Alvin Ailey and William Hairston.  A Stella Holt Production.  Folkways Records FL 9671, 1964.  Music Library LP 5427/28.
Poet, activist, novelist, playwright and columnist Langston Hughes' musical, "Jerico-Jim Crow," with music arranged by Hugh Porter, was performed in New York City's Village Presbyterian Church and Brotherhood Synagogue to rave reviews by the New York Times in 1964. Many spirituals and traditional songs are included, along with original music.   The cast of six is accompanied by a chorus and an instrumental ensemble of piano, organ and percussion.
The emotions behind each historical event are woven seamlessly throughout the play.  "Jerico-Jim Crow" begins with an ensemble singing and aspiring to freedom.  An old man and woman want to march and vote, eat ice cream at the downtown store, and send their children to the nearest schools and universities.    In a series of flashbacks, they recall the horrors of slavery and how it broke up families—a woman cries, "They sold my children away from me," and a boy sings, "Mama, is Massa gonna sell us tomorrow?'  A man laments, "Oh, God, I can still hear my children's voices."  When word gets around that some slaves were running away to the North and working with Abolitionists to do away with slavery, he decides to join them.  After John Brown's raid of Harper's Ferry and the Civil War, and the disillusion experienced during Reconstruction, the ensemble is beleaguered by Jim Crow laws.  A character called Jim Crow is played by one actor, in the guises of a trader, Klansman, planter, minister, governor, policeman and jailer.  The show ends as the ensemble continues to fight for justice.  Names of those engaged in the civil rights movement (W.E.B. Du Bois, Martin Luther King, Jr., Daisy Bates, James Meredith, James Peck, A. Philip Randolph, John Lewis, James Farmer, Roy Wilkins and President John F. Kennedy) are incorporated into the lyrics of one of the musical's final songs.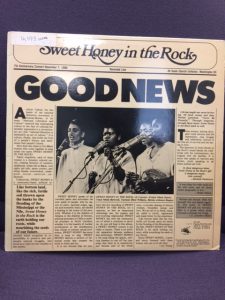 Sweet Honey in the Rock (Musical group).  Good News.  Flying Fish Records.  FF245, 1981.  Music Library LP 16,473.
Sweet Honey in the Rock is an a cappella women's vocal ensemble founded by Bernice Johnson Reagon in 1973.  The topics sung by the ensemble, with original and traditional music, include cultural, political and personal struggles, spirituality, womanhood, parenting, love and celebration.  The group has enjoyed accolades and the loyalty of fans for decades, as can be heard on this album, recorded live on November 7, 1980, at All Souls Unitarian Church in Washington, D.C.  With a variety of vocal harmonies, layers and textures, Sweet Honey explores a range of subjects that touch its listeners.  Johnson Reagon speaks to the audience and encourages them to join in the performance.  The opening song, "Breaths," conveys the African world view of the connection between the invisible spirit world, man and the visible world of nature; it too explores the relationship between past, present and future.  "Echo," relates the current episodes of political violence and how remindful they are of other historical tragedies.  "Chile Your Waters Run Red Through Soweto," illustrates the thread of violent uprisings in South America, South Africa and Wilmington, North Carolina, USA.  "Oh Death," speaks to the devastation of grief; while "Good News," celebrates the joys of the Christian faith.  "Biko," is a vocally percussive tribute to South African anti-apartheid activist Steve Biko.  "If You Had Lived," with lyrics and music by Johnson Reagon (as is much of the album) is an examination of conscience—had we lived in the times of those struggling for freedom, what would we have done?  "Oughta Be a Woman," chronicles the sacrifices of Johnson Reagon's mother for her family, and of women everywhere; "On Children," reminds us that they are here not to imitate us and our past, but to think for themselves and carry us into the future.  The loneliness and yearning expressed in "Time On My Hands," and "Alla That's All Right, But," lead to the comfort and passion of the concluding song, "Sometime."  Despite some retirements, the membership of Sweet Honey has expanded and now includes a sign language interpreter, which is "Good News," for new generations of listeners.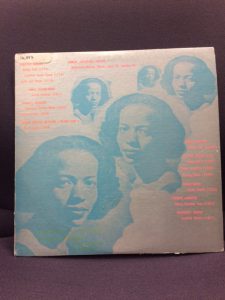 Anthology of Piano Music by Black Composers.  Ruth Norman, piano.  Opus One Records.  No. 39, 1978.
Ruth Norman (1928-2007) was a gifted pianist dedicated to educating the public about the contributions of Black composers, from the Renaissance through contemporary periods.  Her album proceeds chronologically, and opens with three excerpts from Twelve Country Dances by British composer Ignatius Sancho (1729-1780).  "Bushy Park," "Cuthford Heath Camp," and "Ruffs and Rhees," indeed have danceable meters, are very brief and, in the keys of C and G major, are easy enough for a student to play.  Philadelphian James Hemmenway's "Curtsy Cotillion" (1811) is a lively tune in G major, with slight variations in meter throughout the piece.  With "Johnson's Dream Waltz," in G major by Francis Johnson (1792-1844), one hears the use of the sustaining pedal, seventh chords in the left hand, contrasting use of register, unison and a minor key section, and other traces of a more romantic style.  Johnson's "Victoria Galop," and Thomas Greene Bethune (aka "Blind Tom")'s "Oliver Galop,"  are sprightly pieces with dry, rapid eighth- and sixteenth-note chords accompanying rapid melodic figures in the right hand.  With William Grant Still's beautiful "Summerland," (1936), from his suite, Three Visions, one encounters a noticeable sophistication in meter, along with both jazz-infused and impressionistic harmonies.  Two movements from Still's suite Traceries evoke other moods:  the quick, repetitive motives of "Muted Laughter," depict merriment, while the ponderous, low registers in "Wailing Dawn," with its call and response melody, create an atmosphere of gloom and mystery.  Acclaimed British composer Samuel Coleridge Taylor employed a West Indies' melody in his technically challenging "Bamboula" (African Dance, op. 59, no. 8).  William Boyd, of Gaithersburg, Maryland, wrote a "Petite Rondo," which explores a variety of tonal areas.  Haitian melodies and rhythms dominate "Danza Number Four," by Ludovic Lamothe (1882-1953), a native of Port-au-Prince who was known as the "Noir Chopin."  The final work on the album is Margaret Bonds's "Troubled Waters," (1967), which is based on the Negro spiritual "Wade in the Water."  From the outset of this piece one hears the rhythms and call & response of a choral setting, but this leads to unexpected harmonies and a showcase of pianistic virtuosity.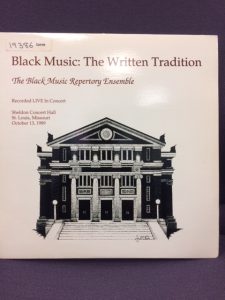 Black Music: The Written Tradition.  The Black Music Repertory Ensemble; Michael Morgan, cond.    Center for Black Music Research.  CBMR001, 1990.  Music Library Audio 19,386.
This superlative album features the Black Music Repertory Ensemble, which is the performing unit of the Columbia College Center for Black Music Research.  The BMRE's purpose is to promote appreciation for the Black musical heritage through the performance and recording of small-ensemble literature written by Black composers between c. 1800 and the present day.  This concert was recorded live on October 13, 1989 at the Sheldon Concert Hall in St. Louis, Missouri.
The accompanying liner notes provide extensive biographical and literary information on each selection.  Much of the music is thoughtfully arranged and orchestrated for the ensemble by composer Hale Smith.  Philadelphian Frank Johnson's "Princeton Grand March," is stately and majestic.  Sidney Lambert's (ca. 1835-1905) "Rescue Polka Mazurka," is an elegant dance tune in ¾ time.  Montague Ring is the pseudonym of British composer Amanda Aldridge (1866-1956), whose "Three African Dances," reveal distinctly English melodies and harmonic progressions.   Will Marion Cook's (1869-1944) Three Negro Songs (1912) employ the use of Negro dialect, which was first used in the days of minstrelsy.  Its use was later rejected by some intellectuals but still used by others for artistic effect:
"Come along Mandy, come along Sue,
White folks watchin' an' seein' what you do,
White folks jealous when you'se walkin' two by two
So swing along, Chillun, swing along!"
The first song, "Swing Along," is from Cook's musical, "In Dahomey," (1902).  "Swing Along," contains rhythms which first appeared in ragtime music in the late nineteenth century.  Baritone Donnie Ray Albert's masterful upper range, the pronounced lyrics and tight ensemble playing draw eager applause from the audience. The middle song, "Exhoration," is a slow, heavy recitative in a minor key, with a Biblical message:  "Remember, if a brudder smotes dee on de lef' cheek, turn roun' an' han' him de odder!"  and "Rain-Song," with its rhythmic, brassy accompaniment, details the effect of imminent rain on nature's creatures.
"St. Louis Grey's Quick Step," is a social dance tune by St. Louis's earliest-known black composer, J.W. Postlewaite, (1837-1889), a former slave who was freed in 1850.  Two excerpts follow, from the Noble Sissle (1889-1975) and Eubie Blake (1883-1983) collaboration Shuffle Along:  the title tune, and "In Honeysuckle Time."  Shuffle Along premiered in 1921 with an all-black cast, and recently had a brief Broadway revival.  The melancholy beauty of N. Clark Smith's (1887-1933) "Pineapple Lament" reflects the composer's perception of the island of Martinique and the loss of pineapple groves there after a volcanic eruption.  Both the "Lament," and Smith's bright, syncopated "Banana Walk," were well-received by the audience.  James Reese Europe's (1881-1919) "Castle House Rag," includes "dotted shuffle rhythms," of the one-step in its first section, and more syncopated rhythms in the contrasting second section.  Leslie Adams's (1932-) setting of Paul Laurence Dunbar's "Lead Gently Lord…" was composed especially for the BMRE.  The album concludes with the patriotic "Spirit of the U.S. Navy," by Alton Augustus Adams (1889-1987).

Head of Music Library
at
Stony Brook University Libraries
Gisele is the Head of the Music Library. She is the liaison to Music, Africana Studies, Anthropology, and Sociology.
email: gisele.schierhorst@stonybrook.edu

Latest posts by Gisele Schierhorst (see all)