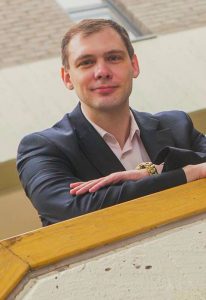 The University Libraries is very pleased to announce its first lecture of the spring 2018 STEM Speaker Series presented by Dr. Alexander Orlov, Department of Materials Science and Chemical Engineering.

Title: "How nanotechnology can save us and environment: Making it happen in a safe way"
Date: Tuesday, February 13 from 1pm-2pm
Location: Special Collections Seminar Room, E2340, second floor of the Melville Library

Nanotechnology is offering wonderful opportunities to make most of materials around us much better. Nanoparticles can help us to produce energy in a more efficient and less harmful way. They can also transform the environment around us and help us to clean it. Nanotechnology is opening new and exciting world for our civilization and we are still only at the beginning of this fantastic journey. However, there are questions about how safe those small particles are, and whether there are ways to make them safer. This lecture will discuss examples of emerging frontiers in this area while attempting to outline challenges in nanotechnology field.

We welcome students, faculty, staff, and the general public to register here and join us for this special event.

Clara is the liaison to the Department of Chemistry, Electrical & Computer Engineering, Mechanical Engineering, and the Women in Science and Engineering program.
Email: yuet.tran@stonybrook.edu

Latest posts by Clara Tran (see all)