---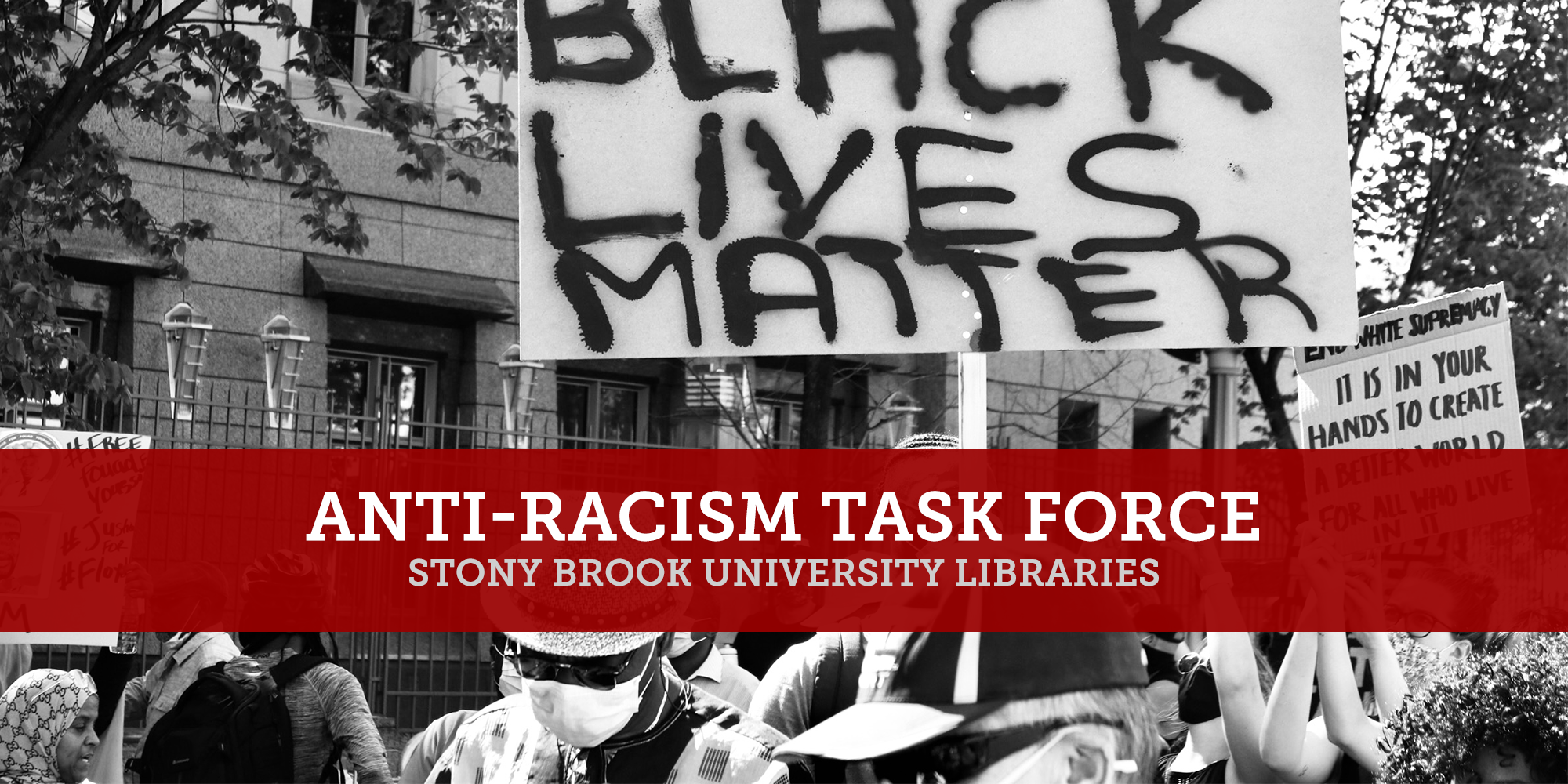 Charge
Focus on ways for Stony Brook University Libraries to address social justice issues through access to information and awareness via resources, instruction and programming:
Collection development: Improve library's online collections addressing racism perpetrated against underrepresented communities, specifically, the African American community in the context of the Black Lives Matter movement.
Create interactive forums such as seminars and workshops that engage the community in understanding the deep structures of racism.
Create a lively website of materials relevant to understanding and combating racism and discrimination.
About: Anti-racism Task Force
The Task Force was formed in the summer of 2020 in response to murder of George Floyd on May 25th at the hands of police and the national and international swift call to action against the continued racism perpetrated against people of African descent in the United States. The task force was formed to take action to uphold the statement against systemic racism by Stony Brook University Libraries.
---
Members (University Libraries)
Chris Filstrup
Victoria Pilato
Mona Ramonetti, chair
Caterina Reed
Advisor(s)
Dr. Zebulon Miletsky, Africana Studies
2021 Student Workers
Emely Alvarado-Lemoine (Health Sciences major, class of 2023)
Jason Do (Biochemistry major and Pre-Med Track, class of 2024)
Maia Gomis (Biology major and Africana Studies minor, class of 2021)
Sebastian Holguin (Applied Mathematics & Statistics major, class of 2022)
Dillon Meacham (PhD student in Music)
Emelyn Pareja-Garcia (Psychology major, class of 2024)
---
2021/2021 Projects
Create a research guide that focuses on the Black Lives Matter movement (Anti-Racism Task Force) and add to other related guides that focus on Equity, Inclusion and Diversity issues in general ( Stony Brook University Libraries' Equity, Inclusion and Diversity Committee). The guide will provide not only resources but also search terms to help researchers and/or patrons search for material focused on racism and anti-racism.
Curate a digital collection documenting SBU's response to the racial unrest that continues to plague the United States. The digital project will document the racial unrest following the murder of George Floyd on May 25th, 2020 through testimonials, essays, poems, and other work submitted by the Stony Brook University's community.
Work with the University Libraries' Lead Selectors Group to purchase online monographs, videos and other resources relevant to the Black Lives Matter and other anti-racist movements
Amass and periodically update a list of vendors (preferably African American and/or other underrepresented groups)
Accomplishments
In collaboration with SBU's Chief Diversity officer, Dr. Judith Brown-Clarke, Dr. Zebulon Miletsky (Africana Studies), SBU Libraries acquired the HistoryMakers database.
The Anti-Racism Task Force was awarded an $8000 grant from the Office of Chief Diversity Officer. The funds are dedicated to student salaries for their work on collection development, the research guide and the digital project.
---
Participate in Our Digital Project
The anti-racism task force, along with student workers and personnel from Stony Brook University Libraries and the Africana Studies department are documenting racial encounters, experiences, and feelings about racial injustice that members of the SBU Community experienced since the murder of George Floyd on May 25, 2020. The focus of this project is to document the resurgence in the fight for racial and social justice that precipitated from the events of May 25, 2020. The task force recognizes the importance and value of recording the stories, essays, poems, oral histories, etc.. for researchers, academics, and community members. We encourage you to contribute your own testimonial be it written or an oral history interview.
We are looking for your experiences documented in the format of your choice, such as: essays, testimonials, poems, song lyrics, etc., in a document file format (PDF preferred). You may submit images as well but they must be accompanied with the documentation listed in the previous sentence. Suggested image file formats are PDF, JPG or JPEG, TIFF, and PNG. Agreement terms and writing prompts are available in the form. We are unable to collect video or audio files at this time. We will be collecting self-submitted digitized documents/images via this Google form.
There will also be a collection of oral histories focused on interviews with Stony Brook University students (both undergraduate and graduate). If you are interested in contributing an oral history interview please email: mona.ramonetti@stonybrook.edu or victoria.pilato@stonybrook.edu
All items will be managed and preserved by Stony Brook University Libraries and made open for viewing in an online platform available to the public.
Any file shared with us will be or can be shared outside of this task force. If you would not like your identity to be shared in the online collection you will have the option to declare yourself anonymous in the submission form.
Header Image
Attribution: Image is adapted with modifications from the original by Taymaz Valley from Ottawa, Canada, at the Wikimedia Commons, and is reused under the terms of a CC BY 2.0 license.